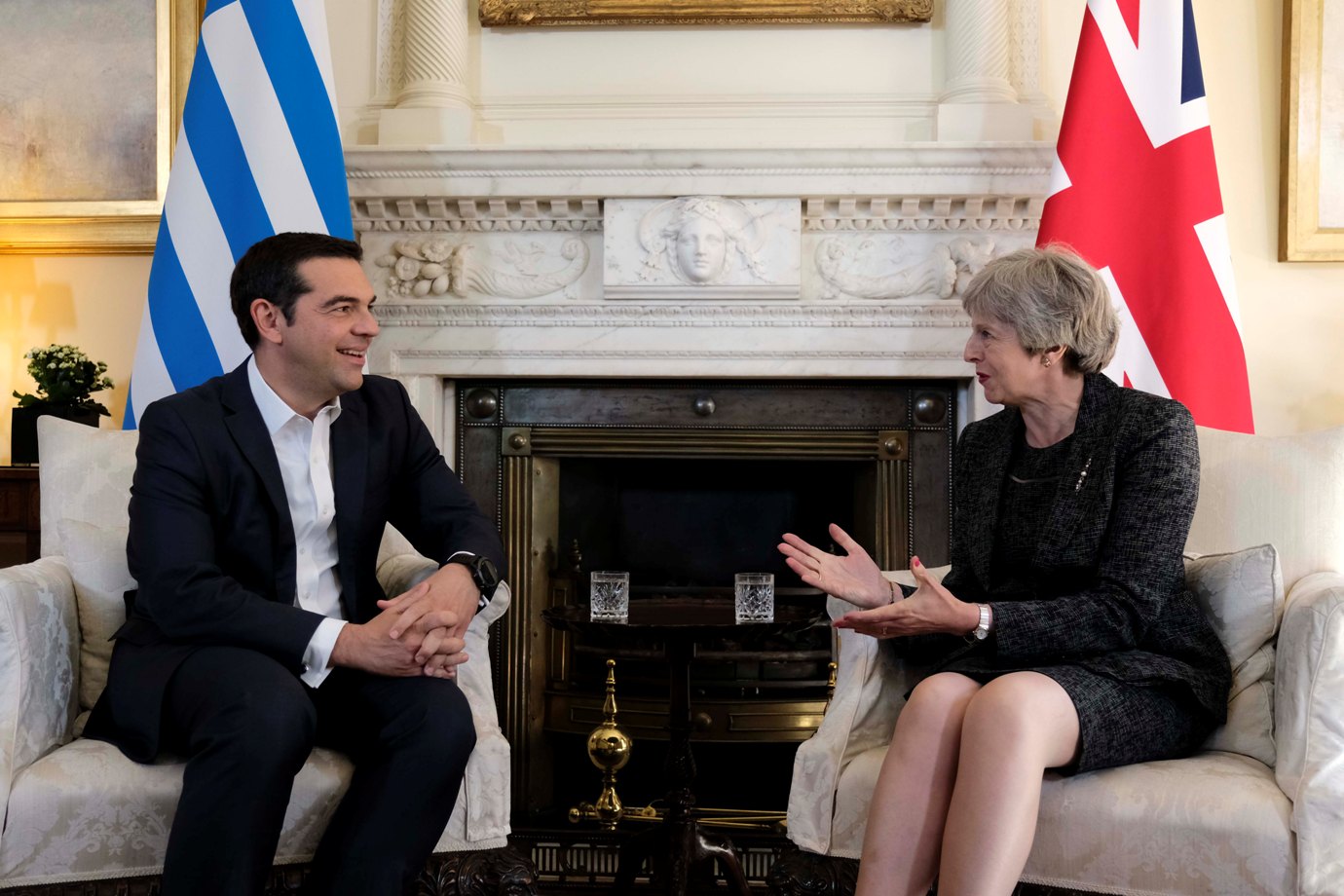 The deepening of bilateral cooperation in a wide range of economic sectors was the main subject of talks between Prime Minister Alexis Tsipras and his UK counterpart Theresa May at Downing Street on Tuesday afternoon.
However, political developments in Greece kept the Greek leader preoccupied. Asked after the meeting by the media whether he is concerned about his government's stability following the withdrawal of George Lazarides from the junior coalition partner's parliamentary group, Mr Tsipras said no.
"In spite of silly plans attempted by some, there will be a continuity in government cohesion until the end of the four-year term," said the Greek Prime Minister. He then quipped that his government is "too hard to die".
The two leaders agreed that as the Greek economy continues to recover, there is potential for deeper business links in the energy, tourism, education and shipping sectors.
Exiting Number 10 at the end of the 50-minute long meeting, Mr Tsipras said that he had a "very constructive" discussion with his host.
He spoke of a meeting that took place at an "emotional and historic" moment, when the end of the financial crisis in Greece has been declared and the debt has been relieved, upgrading the country's economic and geopolitical position.
A Downing Street spokesperson said that Mrs May congratulated Prime Minister Tsipras on the progress made by the Greek economy and the important steps taken last week towards Greece's exit from the economic adjustment programme in August.
Mr Tsipras stated that he also raised the issue of the Parthenon Marbles restitution. Mrs May reiterated the UK's negative response.
The two leaders discussed the issues that Greece faces with refugees and illegal migration and agreed that this is a shared challenge that requires a co-ordinated and comprehensive response including through the continued implementation of the EU-Turkey agreement. The British Prime Minister said that the UK would continue to play its part in supporting a sustainable solution after the UK leaves the EU. She said that the UK would send an additional Border Force cutter to the Aegean to carry out vital search and rescue operations.
On Brexit, Theresa May updated the Greek Prime Minister on the progress that the UK and EU have made. They agreed that a deep and comprehensive future partnership on trade and security was in the interests of the UK, the EU and EU member states including Greece.
Mr Tsipras noted that the need to strengthen bilateral ties is important now more than ever exactly because of Brexit.
They also discussed regional issues and agreed on the importance of encouraging further steps towards a settlement in Cyprus. Prime Minister Tsipras welcomed the constructive role the UK had played in the talks so far as one of the guarantors.
The UK Prime Minister also took the opportunity to welcome the historic agreement reached on the longstanding name issue with FYROM and the benefits this will bring to regional stability.
The Prime Ministers and discussed relations between Turkey and Greece agreeing that continued dialogue was vital in ensuring regional stability./ΙΒΝΑ
Photos: PM Press Office/Andrea Bonetti