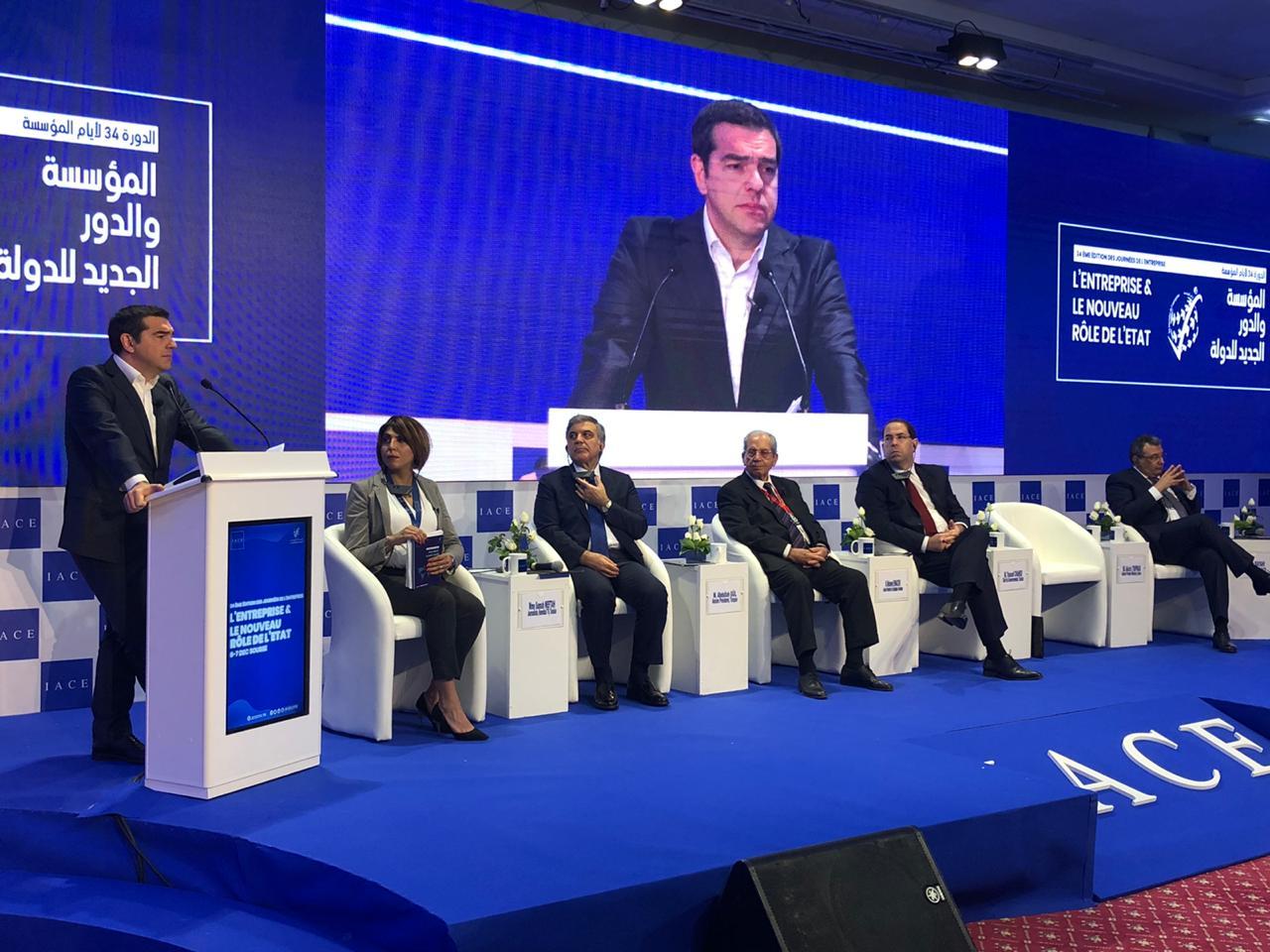 Alexis Tsipras, during his stay in Tunisia, called on Turkey to respect international law and to not undermine co-operation and stability in the Eastern Mediterranean. Taking the floor at the Arab Business Institute Conference, the former Prime Minister stressed: "Our neighbors must understand that relations cannot be built this way (by violating the international law), but only through mutual respect and dialogue.
He made particular reference to the way the refugee issue is being handled and to the demarcation of the Exclusive Economic Zones, underlining that he had raised the issue of reopening exploratory talks with Turkey on demarcating the Continental Shelf during all of his meetings with the Turkish President back in 2016. Turkey, as SYRIZA points out, opts for self-marginalization by creating faits accomplis: "The Republic of Cyprus has been raising the same issue since 2006. Although Turkey never really showed any interest, today it is pointing its finger to us claiming that we decided without them, trying to illegally impose faits accomplis in the Eastern Mediterranean", he added.
On the occasion of the conference, the SYRIZA president stressed the need for a coherent EU strategy for the Mediterranean centered around MED7 (Greece, Italy, Malta, Spain, France, Portugal, Cyprus) and the Euro-Mediterranean dialogue. "It would range from a fair and viable solution for the Cyprus issue to the solution of the two states on the Cyprus issue".
Alexis Tsipras' address to the former President of the Turkish Republic Abdullah Gül, who attended the conference, raised eyebrows. Referring to the reforms of the then newly elected Turkish Government in the early 2000s, he underlined their importance, "in getting your country out of that difficult financial situation at that time; getting rid of the IMF and the lenders; reducing poverty; getting Turkey on its feet with a strong economy; getting closer to the EU and especially to Greece and in deepening the roots of democracy, for example by reducing the power of the military and providing much more rights for minorities".
Tsipras and Gül had the opportunity to speak privately during the conference. It is noted that Abdullah Gül has now distanced himself from Recep Tayyip Erdogan, having accused the Turkish President of complicity, corruption, lack of democracy and appropriation of authority. /ibna