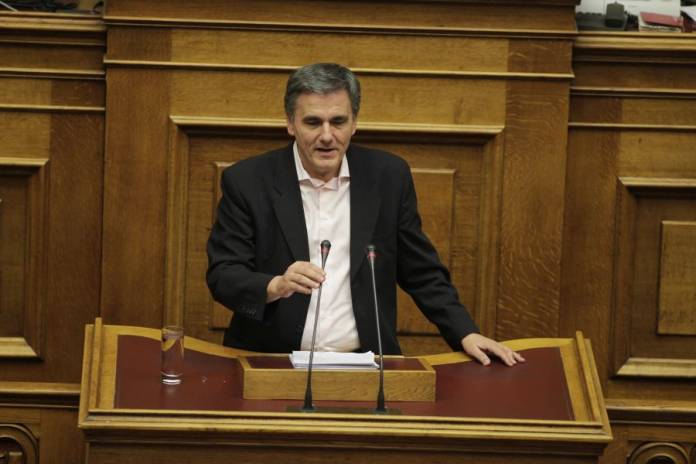 Greek Finance Minister Euclid Tsakalotos defended the results of the latest Eurogroup meeting for Greece which resulted in direct talks with creditors resuming in Athens next week.
The minister rejected criticism that his handling of talks with creditors are likely to result in a fresh round of austerity, arguing that Athens will make reforms that have a neutral fiscal impact and seek to support the most vulnerable.
Tsakalotos told parliamentarians that the basic parameters of the deal Athens is expected to strike with the "quartet" of its international creditors are already known to a large extent.
"Even though you may have expected us to take two, or four, or six or eight measures, there will not be a net fiscal impact," Tsakalotos argued.
"Some may lose out, but some will gain. Some whom we do not assist at present – and we should help them – will gain," he added.
Earlier, local media reports suggested that Tsakalotos appeared to be angry at Syriza officials and members of the cabinet who singled him out for criticism of the way negotiations with creditors have progressed as it is most likely that Athens will need to implement fresh austerity measures imminently.
Before Thursday's appearance in parliament, the Finance Minister had kept quiet after last Monday's Eurogroup meeting and did not make any public statement to explain the results of the meeting. In fact he even refrained from speaking to the press as is customary after Eurozone Finance Ministers meet.
It was reported here on Thursday that Tsakalotos' silence in recent days signifies a rift with key government figures. Reports suggest Tsakalotos is keeping a distance from the rest of the cabinet and the PM, leaving all options open regarding his future as Minister of Finance as he is reported to be disappointed at being criticized for government policy in terms of negotiations with creditors. Tsakalotos reportedly feels he has been consistently undermined by senior government members in recent months, weakening his position vis a vis creditors.
Sources close to the Finance Minister said he is determined to concluding the review of the bailout program successfully and that "rumors of his political death are an exaggeration"./ΙΒΝΑ