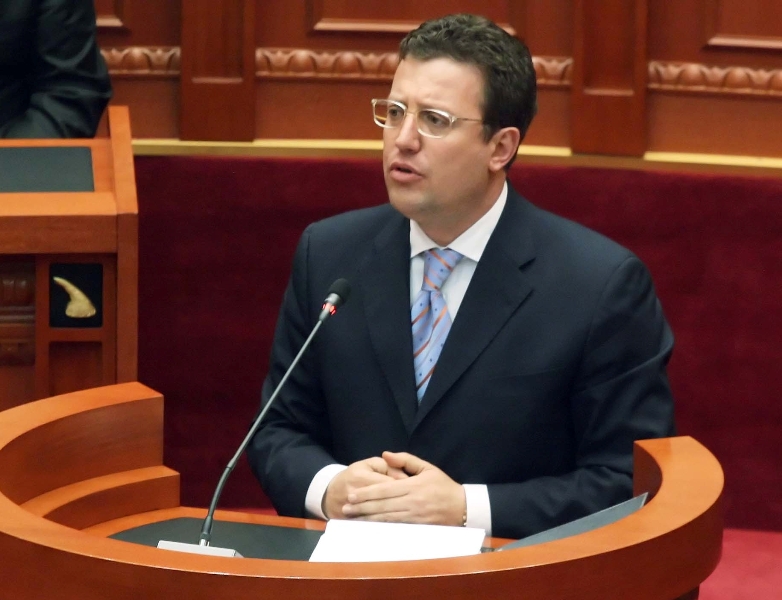 IBNA Op-Ed/ Sokol Olldashi MP analyzes the partial local government elections which were held in Korca on November 3, where the Democratic Party lost like it did on June 23 parliamentary elections with a big difference against SP and SMI coalition which is now in power.
Mr. Olldashi, the candidate for the chairman of the DP in the elections which were held several weeks ago, where Lulzim Basha, current mayor of Tirana, was elected, speaking to IBNA, says that the phenomenon of the sale and purchase of votes is unacceptable.
12 years as an MP, the former Minister of Transports, Sokol Olldashi says that the traffic of votes has started with the former Prime Minister Fatos Nano, it continues with the Socialist Movement for Integration, which has throughout all these years been in power, except for several years in 2005 and continues to be in power with the Socialist Party.
Below you will find an analysis of Mr. Olldashi about the latest political developments relating to the traffic of votes.
The truth about Korca, in reality and not how we like it
By Sokol Olldashi
MP of the Democratic Party of Albania
"I cannot consider myself amongst the old MPs, but nonetheless, I've been here for 12 years and I have never felt as bad as today. It's an obnoxious and disgraceful session!
It's a session where, if we feel the slightest responsibility, we must suspend the order of the day and tackle with this issue in details.
What happened in Korca is serious and I'd like to take this opportunity to thank the media about this. But there's more! The problem amounts to more than 2 thousand Lek which were given to students in Korca! The problem has turned into a system and if we want to seriously tackle it, then we must understand what is really happening.
Our reaction after what happened in Korca is expected and normal. We are in opposition and we cannot accept to see the entourage of the power with money in their hands buying votes.
If we don't react like this, then we don't deserve to be here. This is our duty.
But does our duty end here?!
And does your duty finish at the point where you defend yourself?! I expected the Socialist Party to find artificiality in order to get out of this situation, by saying that they were paying the bus fare.
But on the other hand, I'd like to address many MPs, right winged and left winged ones, to each one who feels the slightest responsibility-there are plenty of people which I think highly of, although I do not believe or do not accept their political reasoning or vocation-shall we deal with this problem? Or shall we pretend that we don't see?
What's happening is terrible!
If we go back to 1991 and 1992, we will see that during the first pluralist elections in the country, nobody was paid, not a single penny was spend, neither from the candidates, nor from the commissioners! Nobody has paid anybody. Why? Because people had a heart, had a moral and had a soul. They came and did everything out of desire. Both ours and yours.
What happened later?
Later we started to pay commissioners, then we started to pay the cars to bring people in to vote and then we started to pay marginalized groups to have their votes.
After that we moved even further! Why should we even bother to pay cars and pay for voters to come and vote, commissioners?!?!?! It's better if we pay voters in a process which is no longer electoral, but a market of supply and offer for wholesale and retail purchases of votes.
We pay voters and this is "direct democracy"!
But this is not the direct democracy of the will of the people, it's the "direct democracy" of pockets. This is not the democracy that Albanians need.
We then moved forward, although we pretend to forget this. We moved on the trade of MPs. This was started by Nano in the 2001 parliament and was carried out by us when we were electing the president in 2007. And we continue to pretend like we don't see and we don't know this.
It was started by Nano, it was refined by SMI and to be honest, not only by SMI. Even by other small parties in coalition with you or in coalition with us.
Even we, of the DP, pretended like we didn't see it.
And we come here today to talk about Korca.
But before Korca, it was June 23. There has been nothing more disgraceful and more obnoxious than the June 23 campaign.
We used to go to different constituencies and tell people: "we have done these works and carried out this project".
And the reply was: "he has given 20; he has promised 30; the other one 50. How much do you offer?"
We owe an apology and answer to Albanian citizens.
If we truly want to tackle this problem, we should start today.
We cannot hide and say that SP is to blame. Of course that you are to blame for what you've done in Korca!
Without any doubt! You are morally, politically and legally responsible! Before the people and the law.
But we are also to be blamed for pretending not to see this phenomenon when it was being applied by parties in coalition with us.
In 8 years we made Albania a member of NATO, we lifted the visa regime, we built 1300 schools, 10 thousand km of roads and 799 water supply systems. Why did we lose?!
In a figurative way, we lost due to "Fiks Fare" program! Because we didn't watch it or pretended not to watch it nearly three years ago. You watched it and you "embraced" it on April 1.
Do we truly have the will and desire to tackle this issue?? I hope so! But if we truly want to tackle this issue, we must give an answer to Albanian people, we must decide as to whether in this parliament, some will continue to be MPs and some others will abdicate their seat.
It's not possible for MPs and buyers to cohabit quietly in this parliament hall. This hall has enough room for only one category; for MPs or for buyers. Both of these categories cannot stay here.
We must tackle this and we must start today!", – concludes his analysis the democrat MP, Sokol Olldashi. /ibna/
* Note: The stances taken by the author do not necessarily represent the editorial policy of Independent Balkan News Agency