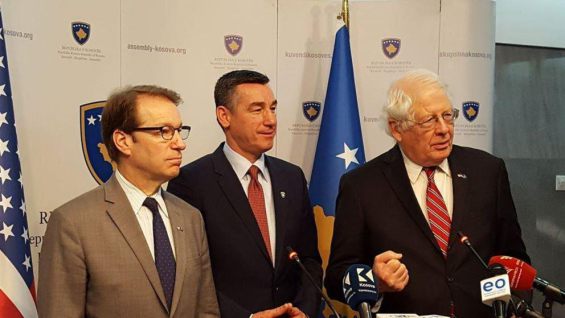 United States of America will continue their partnership and will continue to offer strong support for the Republic of Kosovo.  This is the message issued by US congressmen Peter Roskam and David Price, who are staying for a visit in Kosovo.
The two US congressmen have met with the Kosovo speaker of parliament, Kadri Vesli. After the meeting,  Veseli said that the visit of the US congressmen reconfirms the strong support of the United States for Kosovo under the new US administration led by president Donald Trump.
Veseli said that every time the US congressmen have arrived to Kosovo, they have conveyed messages of freedom and democracy.
"We will continue this partnership in new circumstances, as for Kosovo, the partnership with the United States of America is a special one for the development of our state, democracy, democratic institutions and to advance together in a joint partnership", Veseli said.
Peter Roskam, republican US member of Congress, declared that this visit to Kosovo is the first one for the two US congressmen outside of the US.
"Kosovo is our first stop, because it is a very important country. The whole world has its eyes on Kosovo and the entire world is working for Kosovo, in a way", said congressman Roskam.
David Price, democrat congressman, said that the US is happy with the investment that Kosovo has made for its future.
He said that the US support for Kosovo will continue under the US administration led by president Trump.
"The scope of this visit is to offer our message that in spite of the changes in the country's leadership, the policies that will be applied in the Balkans, especially in Kosovo, will remain the same", Price said. /balkaneu.com/