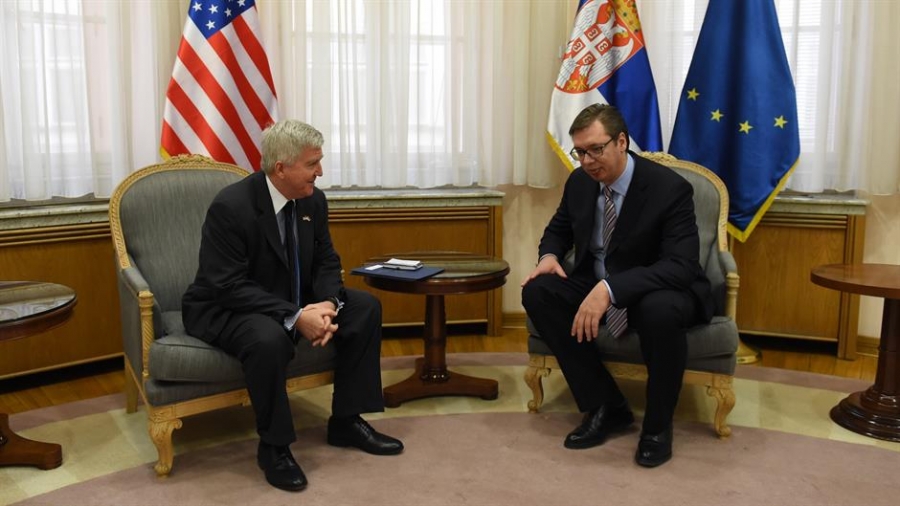 A day after the Serbian president, Aleksandar Vucic and the U.S. ambassador Kyle Scott discussed the situation in Syria, including Serbia's position over alleged chemical attacks by Syria's regime against civilians, pro-Vucic tabloids' front-pages accused Washington of organising a plot against Vucic.
On Sunday, during his meeting with Vucic, ambassador Scott appealed on Serbia to support the investigation over the alleged use of chemical weapons by Assad's regime; the diplomat informed Vucic about the western allies' air attack on Syrian forces on Saturday. On the other hand, the Serbian head of state underlined that his country will keep preserving its military neutral status.
Undoubtedly, the meeting between Vucic and Scott was an American effort to encourage Serbia to take a more pro-Western line as far as its foreign policy is concerned, instead of the current "sitting on two chairs" – stance by Serbia – one "chair" is Russian while the other is the EU-U.S. one. At the same time, Moscow tries to keep its close ties with Belgrade.
In their today's editions, pro-Vucic tabloids accuse Washington of plotting against Vucic claiming that Saturday's joint attack by the U.S., France and the United Kingdom against the Syrian forces was a fiasco.
According to "Informer" tabloid, Vucic's informal bulletin, the Syrian army has destroyed 70 percent of the U.S. missiles; "Syrians made it by using 30-year-old Soviet missiles". The "Informer" also claims that Kosovo Albanians intend to "use the war in Syria to steal northern of Kosovo" from the Serbs.
"Alo!" tabloid, owned by tycoon Zeljko Mitrovic, Vucic's major media supporter who also runs several TV channels, reported on its front page: "The West wants us to turn our back on Putin"; "The West wants to subdue Serbia", "Alo!" claims. This daily also stated that the storm that has hit Louisiana, Idaho, Wisconsin and Nebraska during the weekend was God's punishment for the U.S. because of its attack on Syria.
Finally, "Srpski telegraf" tabloid "reveals" Trump's "plan from the hell" against Serbia; "the first objective is to destroy Vucic because of his cooperation with Russia".
At the meeting with Vucic, Scott has said that the United States were convinced that the Syrian government was responsible for the chemical attack against civilians in Duma, on April 7. Scott added that Russia, as the guarantor of the 2003 Geneva framework, has failed to fulfill its promises regarding Syria's obligation to give up on its chemical weapons.
The American ambassador asked Serbia to fully support the investigation on the Duma attack.
Vucic replied that Serbia condemns chemical attacks against any place in the world. However, he added that "as a small country, Serbia does not want to interfere in relations between great powers".
"Serbia zealously preserves and protects its military neutrality. Our country wants to talk with everybody and to have relations of partnership and friendship (with everybody)", Vucic concluded…. / IBNA