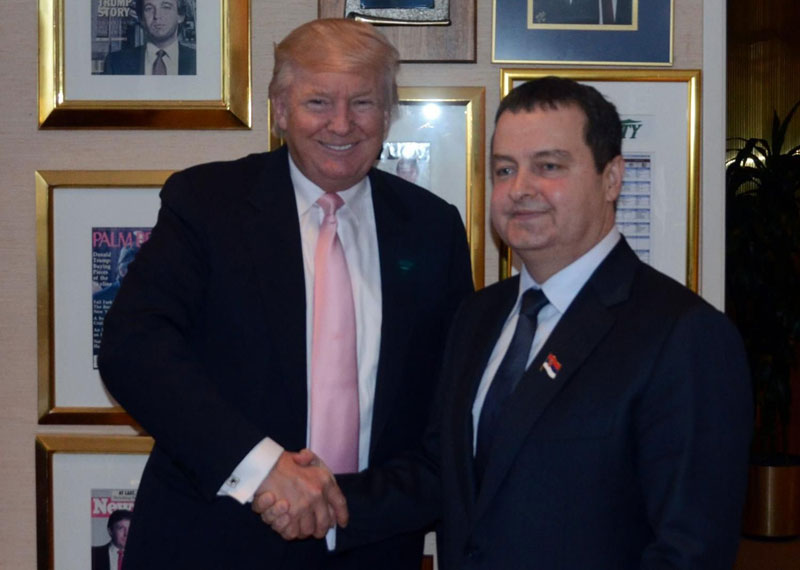 Serbian Foreign Minister, Ivica Dacic, has promised that he would "organize Serbs" in the United States to vote for Donald Trump's reelection in 2020. "If we act wisely, that will create a better position for us in the next administration", Dacic told "Srpski telegraf" tabloid.
The plan is part of a "strong diplomatic offensive" that will be launched by Serbia in autumn "especially in America". Kosovo will be in the focus of the offensive, the Serbian minister explained.
The objective is "to promote both the truth on Kosovo and our positions on the southern Serbian province"; "the strategy of acting goes two ways", as "Srpski telegraf" quoted other official sources as saying, which however preferred to remain anonymous
"Serbia is now in a much better position than in previous years. Now, there is readiness in Washington to hear our positions. Nonetheless, this does not mean that we are going to stay complacent; on the contrary, we will intensify our efforts to strengthen our positions, to increase the number of our friends in America, to bring on our side as much senators and congressmen as possible", Dacic explained.
He announced that Serbia is going to "formalize" support to Trump, alleging that U.S. citizens with Serbian origins "vote for Trump anyway". "If we do this wisely, if we unite these votes, which are not small, we will create a better position (for Serbia) in new administration. Albanians did the same before, uniting the votes of their diaspora. And they all vote for one candidate".
Another part of the "strategy" is lobbying in U.S. Congress, according to "Srpski telegraf" sources./ibna