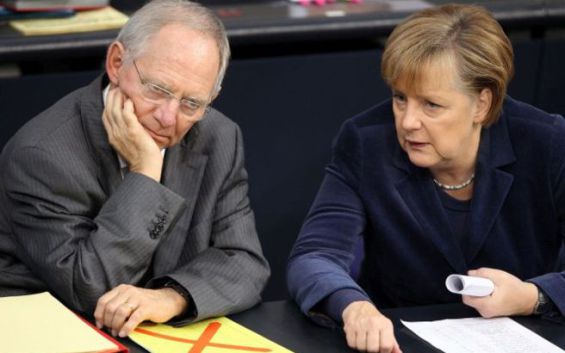 Fear of the policy that Donald Trump will follow in relation to Europe and polls showing Martin Schulz is likely to be the next German chancellor are causing a radical change of the German government's stance towards the Greek bailout program.
According to Süddeutsche Zeitung, a shift is seen in the CDU/CSU ruling coalition in terms of the participation of the IMF in the Greek program. "Europe can stand on its own two feet" M. Weber told the newspaper. "The coalition is changing its attitude regarding the rescue of Greece" is the headline of Munich's Süddeutsche Zeitung newspaper which features exclusive statements of the head of the parliamentary group of the European Peoples Party in the European Parliament and vice president of CSU, Manfred Weber.
As SZ notes, this opinion voiced by Weber, who enjoys the trust of both Chancellor Merkel (CDU) and CSU leader Horst Seehofer, "should be considered an important message. This is because the European politician who is at the same time Vice President of CSU, is moving away from the German position that the IMF should necessarily be involved in the third bailout program".
The German newspaper says Weber's statements signify "a looming change of paradigm in the CDU/CSU parliamentary group". This view is also supported by the statements of the other VP of the CSU party, Ralph Brinkhaus to the paper. "For us it is essential that Greece fulfills its promises and implements structural reforms," the Bavarian politician says. Furthermore, German newspaper Tagesspiegel describes the recurrence of the Schaeuble "Grexit" rhetoric as "dangerous poker".
Finally, on the Greek issue and renewed "Grexit" talk, Sigmar Gabriel – from his new position at the Foreign Ministry – mentions in an interview with Frankfurter Allgemeine Zeitung: "The constant controversy regarding Athens' possible exit from the eurozone is the last thing we need now."
It seems that at the Eurogroup meeting on Monday creditors will have a different stance in terms of the review conclusion, as Greek government spokesman Dimitris Tzanakopoulos told reporters.
According to Die Welt, Angela Merkel and Christine Lagarde agreed for the IMF to remain in the Greek program without however the terms and conditions of the stay being publicized./ΙΒΝΑ