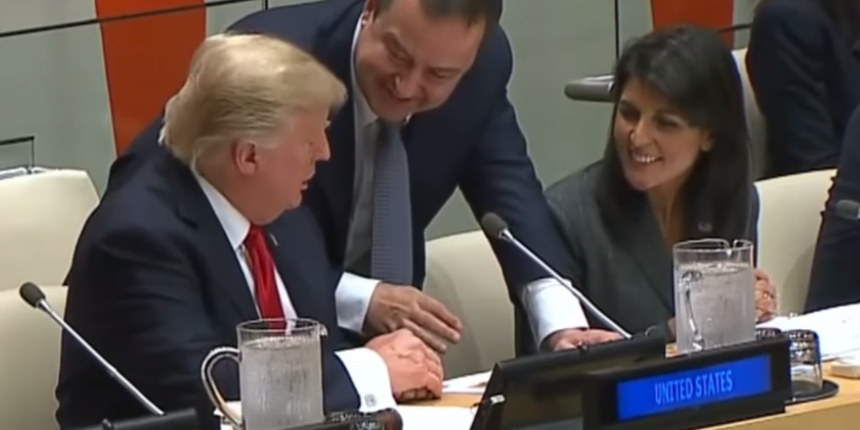 Serbian foreign minister Ivica Dacic has informed US president Donald Trump that most of the Serbs were on his side during American presidential campaign in 2016. Dacic has approached Trump before UN General Assembly session started on Monday. The FM has revealed the content of the informal talk to Tanjug news agency.
Dacic also said that he has given Trump the copies of Serbian newspapers front pages issued on the elections day – to prove that Serbs were on his side, and against his rival from Democratic Party Hillary Clinton.
The head of Serbian diplomacy has used the occasion to invite Trump to visit Serbia. The last US president who has visited Belgrade was Gerald Ford.
From his side, Trump has given Dacic the contact he should be in touch and asked him whether Ana Ivanovic still plays tennis. Ana Ivanovic was ranked No. 1 in the world in 2008. She retired from professional tennis in December 2016.
"The different gatherings are the occasion for informal encounters and discussions", Dacic told Tanjug. "Before the meeting (in the UN) I have also discussed marking the 180th anniversary of the diplomatic relations between Serbia and United Kingdom with Boris Johnson (British FM)", he explained.
PHOTO: Donald Trump, Ivica Dacic and Nikki Haley in UN headquarters, New York/IBNA