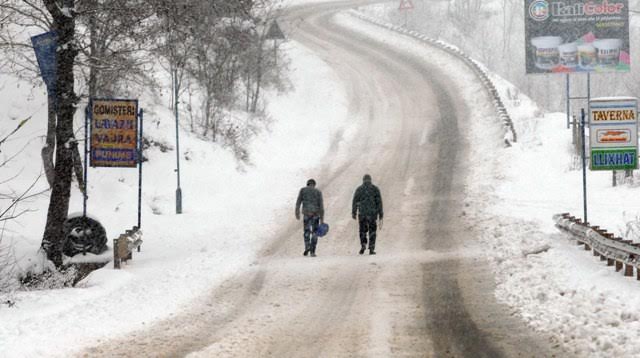 Tirana, 18 January 2016/Independent Balkan News Agency
Up until a few weeks ago, many Albanians were still enjoying the beaches. Meanwhile December was filled with sunny days. The first days of January were also sunny, but this weekend brought the real winter. Temperatures, which in December, oddly enough amounted up to 28 degrees centigrade, are now hitting lows of up to -16 degrees centigrade.
The entire country has been engulfed by rain and snow. The situation is becoming even more difficult in the southeast of the country and northeast, where the thickness of the snow is increasing.
In the district of Kukes and district of Diber, the thickness of the snow is up to 30 cm.
Authorities say that most of national road segments are clear, while in other roads, cars are forced to use chains, due to the thickness of the snow.
Authorities say that road users must be careful due to the presence of ice on the road.
Weather services say that the week which has just started, will be dominated by low temperatures from -6 degrees in Tirana up to -18 degrees in the southeast and northeast of Albania. According to them, this will be the true winter of this season. /ibna/