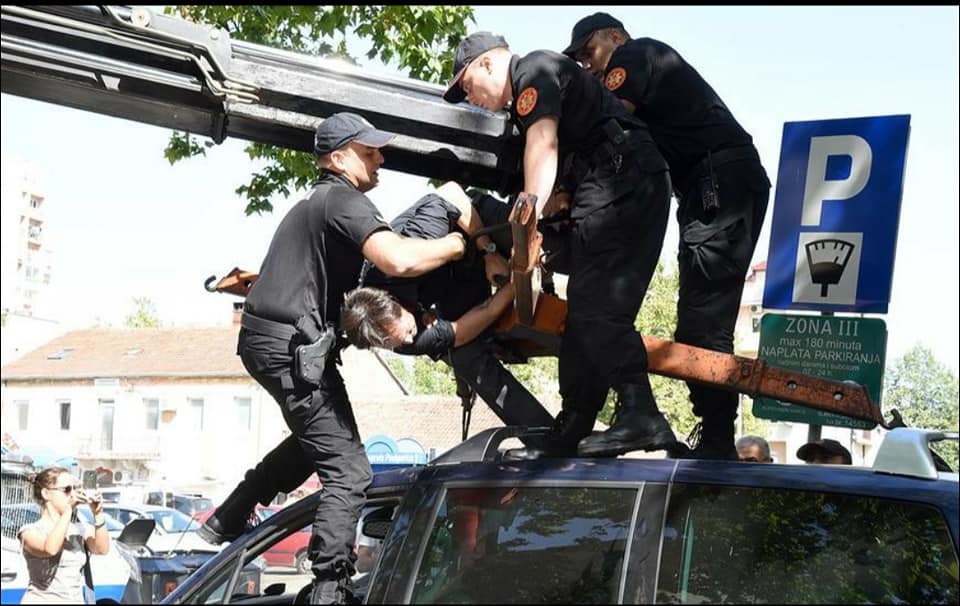 Marko Milačić, leader of the True Montenegro party, was arrested on Wednesday in Podgorica along with some other members of his party.
Allegedly, Milačić and his companions "violated public order" and "did not listen to police orders". He and others had the intention to hold a press conference in front of the Montenegro Supreme Prosecution. The vehicle, with the equipment for the press conference, was stopped by the police on the Podgorica street. Milačić said that the police did not have the right to stop the car and prevent them to hold the press conference. He climbed on the car roof and tried to hold the speech that he wanted to deliver in front of the Supreme Prosecution building.
But, police officers were not content with letting him speak and took him down from the roof by force.
"Today, police officers stopped the car driven by R. J. for a check, but the driver did not allow the officers to check the things carried in the vehicle. As a result, R. J. was brought to the police station.
Police officers called the relevant service to remove the car from the road, but one M. M. prevented them by climbing at the roof of the vehicle. Officers gave him a warning and then ordered him to stop and allow the service to do its job, but M. M. continued with the violation of the public order and peace. He provided active resistance so police officers brought M. M. to the police station, with the use of coercive means", said the Montenegrin Police Department.
In the True Montenegro announcement about the event, it was said that "during an unlawful and violent police operation, the President of True Montenegro, Marko Milačić, was injured in the form of a fracture of the thumb of his left hand, hematoma and scratches in the area of his hands and back".
In addition, the Party demands that Milačić and other party members be immediately released on freedom.
Other opposition parties also demand the release of Milačić and others calling the police action as "repression" and "demonstration of the power".
Milačić is one of the active opposition leaders who often gives performances on the streets. A few months ago, he burned the NATO flag in Podgorica./ibna