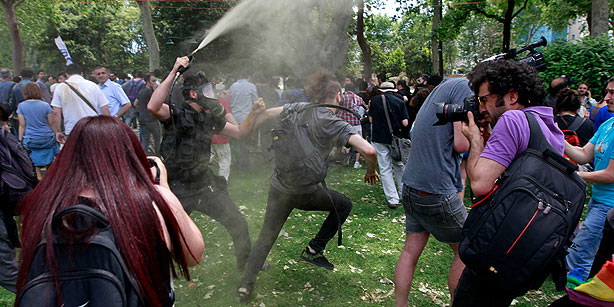 By Manolis Kostidis – Istanbul
The conspiracy theories of Erdogan's new advisor
Demonstrations in Turkey seem to have no end as thousands of citizens continue to take to the streets to protest against police violence.
Turkish police, however, yet again used tear gas and water cannons to push away protestors.
Clashes between police and protestors took place in Istanbul and Ankara, even in Antioch.
The biggest demonstration was staged in Istanbul where around 1.000 protestors attempted to march to Taksim square. Police used tear gas and arrested several protestors.
In Ankara and Antioch, unconfirmed reports mention police fired rubber bullets against protestors.
Erdogan advisor believes some want to assassinate the Prime Minister through telekinesis!!
Under these circumstances, Erdogan deliberated on Saturday with Ahmet Davutoglu and the Turkish secret service chief to discuss developments in Egypt and Syria and how Turkey is affected.
The meeting was also attended by the Prime Minister's new chief advisor, Yigit Bulut. As a journalist up until two years ago, Bulut was an outspoken critic of Erdogan. Lately, however, he had begun praising him.
Since May 31st when Gezi park incidents first occurred, he first developed the conspiracy theories against Erdogan. He had also spoken of "imperialists who want to overthrow Erdogan" as well as the "work of paramilitary organization Ergenekon in Gezi park".
On June 16th, Bulut told TV network Haber that some people want to assassinate Erdogan. "The Prime Minister became a target because he said Istanbul will be a finance center. Turkey has raised its GDP in recent years by 3 pct on average. European countries have seen their GDP decline by 1 pct. This is why Erdogan is a target and some want to assassinate him. I believe attempts to assassinate him are being made through telekinesis and several other methods. The Prime Minister is my honor and this why I voted for him", Bulut said.
The Turkish Prime Minister now listens to this man's advice and determines his government's policies accordingly.
245.121 Trees cut down to build Bosphorus Bridge   
Trees in Gezi park may have been saved from being torn down by the Turkish government's bulldozers, but in other areas of Istanbul thousands of trees are being cut. Turkish minister of Forestry & Water, Veysel Eroglu, announced the government cut down 245.121 trees to construct the third Bosphorus Bridge and the roads linked with it. He also promised five times more trees will be planted in other areas in future.