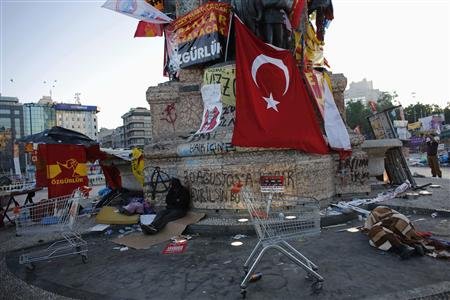 By Manolis Kostidis – Istanbul
The governing Justice & Development Party is puzzled by protests being held against Prime Minister Recep Tayyip Erdogan. Party members fear tensions could seriously damage the party's electoral strength.
Opposition newspaper, Sözcü, confirms these fears. A poll conducted on a sample of 3278 people, shows the ruling Justince & Development Party numbers have dropped due to the Taksim Square incidents.
The poll shows AKP's power stands at 38.5 pct while the Republican People's Party (CHP) sees its numbers rise 18.5 pct. The pro-Kurdish Peace & Democracy Party rose to 8.5 pct.
In the 2011 election, AKP received 49.83 pct of the vote, CHP got 25.98pct while the MHP took 13.01 pct and independent candidates received 6.57 pct (most were Kurds of the BDP).
Erdogan not backing down
Despite the poll numbers, the Turkish Prime Minister continues to use divisive rhetoric and threats that his patience is waning.
"There is a limit to patience. Those who toy with politics and hide behind protestors, will first have to learn what politics mean," Erdogan stated.
The Turkish premier also responded to claims of a "Turkish spring" taking place, saying "Turkish spring occurred when we came to power in 2002."
Ankara has filled with AKP posters depicting former Prime Ministers Adnan Menderes, Turgut Ozal and Erdogan. Menderes banners write "hanged", Ozal's reads "poisoned" (note: this has not been officially proved) while Erdogan's posters read "we won't allow you to get rid of him."
The Turkish premier has mentioned both leaders in his speeches, implying secret centers want to overthrow him just like his predecessors.
Anticipating Gul's veto of the alcohol prohibition law
Political parties and protestors alike are anticipating President Abdullah Gul's stance on the alcohol consumption and advertising prohibition laws approved by the Turkish Parliament two weeks ago.
The Constitutions gives the President the power to approve or veto any law within fifteen days of it being voted for in Parliament. The deadline for the alcohol law is on Tuesday and everyone anticipates the President's stance who had previously stated "if the law's constitutionality is questioned I will do what I must."
The President also has the power to veto specific articles of the law and request they be re-examined and altered in Parliament. The House could then send back the law without any changes which gives the President the power to refer the law to the Constitutional Court for consideration!
The alcohol-restricting law prohibits the sale of alcoholic drinks after 10 pm as well as the advertising and consumption of alcohol. Furthermore, alcohol sale is not permitted within a 100 mile radius of schools and mosques.
Turkish Vice – President: "Somebody should shake us so we can realize what is happening"
Deputy Prime Minister, Bulent Arinc, a moderate politician, made a surprising statement too: "We need to comprehend events. Someone must shake us and advise us of what to do and how to do it. We must be held accountable for our actions as well what we don't do."
AKP reads into twitter and gets in touch with 90's generation
Psychologists and sociologist called forth  
According to Akşam daily, many AKP party members are preparing reports on the "90's generation" and twitter as they believe the party is out of touch with the younger generation and the use of social media.
Party members are concerned by the fact that on May 31st when protests begun in Taksim Square, eight million tweets were sent out in a matter of 8 hours describing everything that happened. The sheer amount of messages proves the power of social media as well as the government's incapacity to control such mediums.
Meanwhile, government vice-chairman, Bashir Atalay, and the Home Secretary will consult psychologists and sociologists in order to better fathom the reasons that caused troubles and why they escalated.