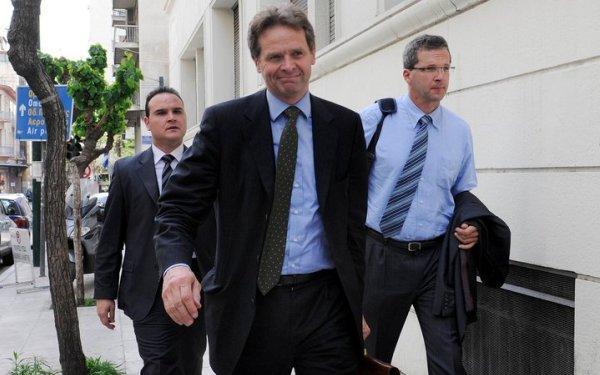 Review by Christos T. Panagopoulos –
The technical teams of the troika of lenders – ECB,EC, IMF – will visit on Thursday the Ministries of Administrative Reform, Interior, Labour, and Health, as well as the state's General Accounting Office, ahead of the three troika representatives, who are scheduled to arrive in Athens on September 22.
The review by the technical teams will indicate to the heads of the troika the country's progress on implementing prior actions that will lead to the disbursement of a 1billion-euro tranche in early October.
The Greek side is expected to promote the positive results of this year's state budget as well as signs leading to achieving primary surplus for 2013 by the end of the year.
Finance Minister, Yiannis Stournaras, will leave on Thursday for Lithuania to participate in the unofficial Eurogroup meeting where he will brief his European counterparts on progress in the fiscal adjustment programme.
Regarding prior actions, the government, among other requirements, must present a detailed catalogue with the taxes that the state receives from third parties in order to either abolish them or transfer them to the central governement's budget.
Additional requirements are as follows: to introduce new legislation on real estate taxation; meet the three-month goals in revenues and in managing public finances; ensure that the banks update their restructuring plans and submit them for ratificaiton to the European Commission's General Directorate of Competitiveness; based on the mobility scheme, to complete the transfer of 12,500 civil servants by the end of September and of another 12,500 by the end of December; take final decisions on restructuring or liquidating the Hellenic Defence Systems (EAS), Hellenic Vehicle Industry (ELVO) and metallurgical company LARCO in order for the appropriate procedures to be completed by the end of December; to pay the state's debts to the Athens and Thessaloniki water and sewage companies (EYDAP and EYDATH) by the end of September; and, finally, to institute the new Tax Procedure Code.
Source: AMNA