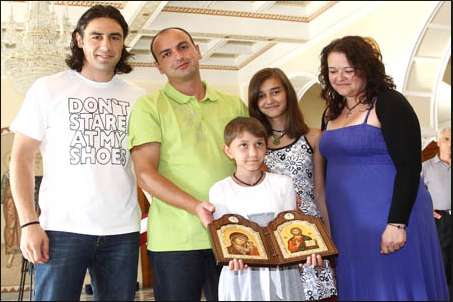 By Christos T. Panagopoulos –
It was back in 2010, at Easter, long before Cyprus entered the Memorandum's financial agreement with its European creditors, when a 12-year-old girl, Maria Moka, had suffered from a rare cancer form in the head.
At that time, from an initiative taken by the APOEL FC's goalkeeper, Dionissis Hiotis, and from Cypriot citizens' contributions a total of 550,000 euros were gathered, so that Maria would be transported and hospitalized in the United States.
According to Cypriot media, Hiotis discovered that today, only a few months after crisis had hit hard the island, the bank account in which all the money had been deposited, has had a "haircut".
Hiotis wrote on his Facebook's wall: "I would like to inform you that new about young Maria's health are pleasant, but unfortunately we didn't manage to convince the Troika that money we gathered in order to help her, were for this specific reason. Although we gathered all the necessary documents, which were asked plus all news bulletins that were referring to Maria's incident, unfortunate the money was lost. In the photo below you may see what is the remaining sum from the 500,000 euros which was found in the end inside the account. (all sums are in dollars, as they were paid in advance for Maria's hospitalization in the States)".
Source: Cytoday