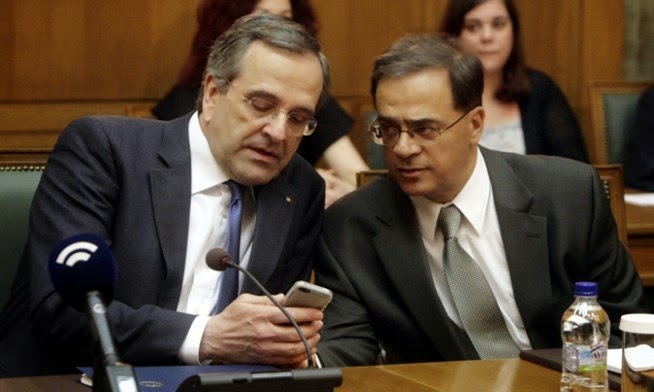 By Lefteris Yallouros – Athens
Greek Prime Minister Antonis Samaras met with Finance Minister Gikas Hardouvelis on Wednesday to brief him on his meeting with German Chancellor Angela Merkel and ahead of troika's arrival in Athens.
Finance ministry and troika officials held a teleconference later on Wednesday. Talks focused on details prior to the arrival of troika auditors on September 29 and meetings on September 30.
The Troika will focus on the state budget, the draft of which will be filed in the Greek Parliament on October 6.
Talks in Athens will be briefly interrupted, as the IMF officials and the Finance Minister Gikas Hardouvelis will have to go to Washington, DC for the IMF's annual meeting on October 10-12. They will also participate at the Eurogroup Council on October 13 before returning to Athens in mid-October.
Next week's meeting is seen as "the last tango" in Athens as there is a general belief that Greece is ready to exit the bailout program.
The troika has asked Greece to created a reserve fund to act as a safety measure for when Greece exits the troika. On its part, the Greek side wants to apply tax exemptions and allow overdue debts to be paid in 100 installments.
Following the conclusion of the review, Greece is expected to proceed with producing its own "framework for continuing reforms" as Antonis Samaras is planning an early exit from the adjustment programme.
Greece's strong fiscal performance, the expected return to growth this year, a gradual reduction in unemployment and the country's return to bond markets earlier this year means that the government can eschew the remaining loan tranches from the International Monetary Fund.
It is believed that Samaras discussed his plan with Angela Merkel in Berlin; Athens would take just the 1.8-billion-euro installment remaining from the eurozone and then exit the program, relying on extra revenues from a growing economy as well as borrowing from the markets.