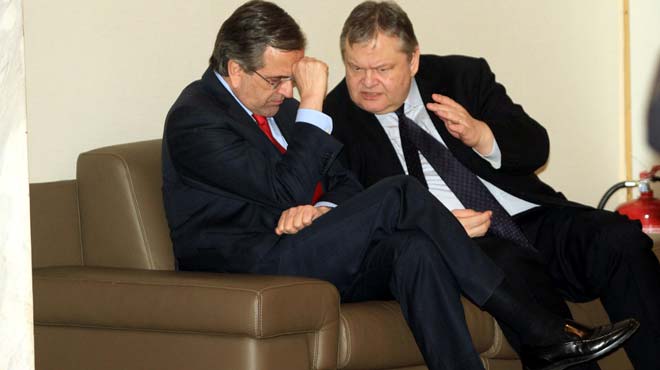 By Lefteris Yallouros – Athens
A single salary scheme for the public sector, reform of the social insurance system, changes to VAT and a series of other issues are amongst the most pressing obligations the Greek government must carry out in order for troika officials to return to Athens and complete their review of the country's adjustment program.
In order to pressure the Samaras administration into making the promised reforms, the troika is toughening its stance in its communication with Greek officials. Particularly its rhetoric concerning the 2015 financing needs is highly telling of intentions.
The troika estimates Greece will be short approximately EUR 3 billion in 2015. Greek finance ministry sources say this figure is being used by the country's lenders to push for changes to pensions and salaries in the public sector.
Even the government's unilateral decision to allow businesses and households to pay off debts to the state in up to 100 installments came under fire by the troika. The auditors have reportedly told the Greek government to alter its decision and limit the measure to 72 installments for much fewer people than the 97 pct of those in EUR 15.000 debt or less as was the original plan.
Such a decision would be detrimental to the coalition government's effort to win back voters increasingly turning to main opposition SYRIZA as shown by latest opinion polls.
Athens has so far resisted troika pressures and delayed promised reforms. Only marginal changes to salaries in the public sector and pensions are currently being considered. However, the government has made some progress towards striking a deal for the troika's return to Athens by presenting some cost-cutting measures that included changes at public organizations during a teleconference Tuesday.
With the budget due to be tabled in Parliament on Friday it now seems highly unlikely that an agreement with the troika will be reached in time for a crucial Eurogroup meeting December 8. That could mean a technical extension to the program into next year is on the cards.
Finance minister Gikas Hardouvelis was reassuring that an agreement is still possible. "Today we need a calm approach," Hardouvelis told reporters after talks with President Karolos Papoulias during which he conceded that talks with the troika were tense, with "nerves stretched" on both sides. "For the sake of the country, we must reach a secure agreement with the creditors in good time, and we will make it," he said.
Deputy PM Evangelos Venizelos on the other hand revealed the Greek government was not prepared to budge on some of the troika's demands adding that the negotiation is complex and complicated.