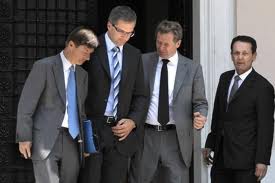 By Lefteris Yallouros – Athens
The first of a series of meetings between troika inspectors and Greek Finance Ministry officials was held on Sunday as Matthias Mors, Claus Mazuch and Poul Thomsen met with Greek Finance Minister Yannis Stournaras.
Talks focused on the execution of the 2013 budget and plans for the 2014 budget as wella as the efficiency of the tax collection mechanism, the settlement of state arrears, structural changes and outstanding prior actions for the disbursement of the next tranche of Greece's rescue loan next month which stands at EUR 1 billion.
The troika is also in Athens to assess progress on the restructuring of the public sector, the drafting of a new property tax as well as efforts to privatize state industries; mining company LARKO, truck manufacturer ELVO and defense contractor EAS.
The 2015 – 2016 fiscal gap was not discussed, sources say.
The news coming out of the economy is encouraging lately.  Compared to the first quarter of the year, GDP in the second quarter is showing an increase for the first time since the start of the crisis. Unemployment figures also fell to 27.1 pct in the second quarter of 2013 from 27.4 in the previous quarter; the first drop in 48 months.
"The signs of recovery are becoming clear," Stournaras told a conference last week.
"No other country has achieved such a large (fiscal) adjustment in peacetime."
As troika officials discussed the latest developments in the economy with Mr. Stournaras, it seems now that the two sides are close to agreeing on the primary result of the 2013 budget which is odds on to be a surplus.
Reports suggest that there was also agreement on the forecast for this year's recession. The Greek government expects GDP to contract by no more than 3.8 percent, against a revised target for 4.2 percent in 2013.