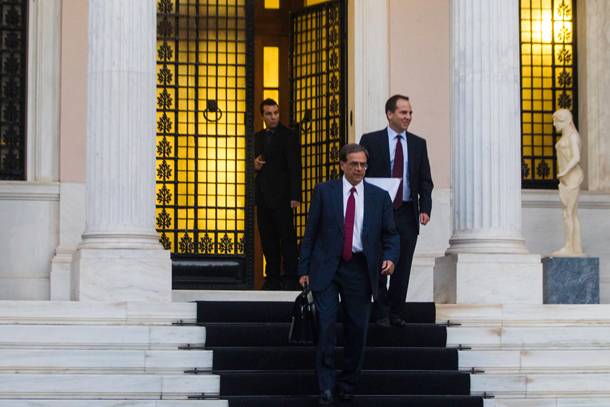 By Lefteris Yallouros – Athens
Greek deputy Prime Minister & Foreign Minister Evangelos Venizelos admitted Thursday that Greece is heading towards an extension of the current bailout program following the breakdown of talks with troika officials in Paris.
Venizelos said, however, that the extension will be brief – lasting a few days or weeks – and is down to technical reasons.
"The European program ends on December 31. The aim is for the last tranche to be disbursed by December 31. If for technical reasons some procedures cannot be completed there could be an extension, but not a new bailout," Evangelos Venizelos told reporters after meeting Prime Minister Antonis Samaras.
Greek Finance Minister Gikas Hardouvelis was more revealing of the troika's stance towards the country. In private conversations with MPs on Thursday, Hardouvelis said the troika doesn't seem to care about putting the coalition government in danger and is not stepping down from its demands.
As long as the deadlock over freeing up the last tranche of the country's bailout remains in place, the exit from the bailout deal promised by the Greek PM cannot materialize. Yields on 10-year Greek debt jumped to 8.4% on Thursday as the market appears worried about the stalled talks between Athens and the troika.
On a day thousands of Greeks protested against a new bout of austerity amid a 24-hour a general strike, the news of a potential extension of the memorandum is a blow for the government.
Main opposition SYRIZA leader Alexis Tsipras marched along with 18.000 citizens in protests in Athens. "Today, the deadlock of the strategy of the good and obedient student which the Samaras government has chosen for two and a half years is confirmed. And unfortunately today we are in a much worse position than in 2012," he stated.
In an opinion poll published by Greek television network, SKAI, SYRIZA now enjoys a 7.5 point lead over New Democracy while PASOK, the other half of the ruling coalition, is at a lowly 3.5 pct.
photo: enet.gr