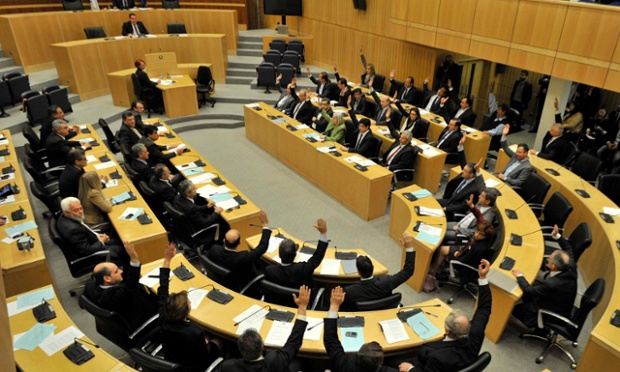 By Kyriacos Kyriacou – Nicosia
Experts and figures show that 2014 will be one of the most difficult years in Cyprus' modern history. By tonight the Parliament House will vote on the 2014 state budget, which is the first budget prepared based on the agreements between the government of Cyprus, international lenders and Troika. It is expected that the budget will pass with votes from Democratic Rally (DISY), Democratic Party (DIKO) and European Party (EUROKO).
Yesterday's session included speeches from leaders or representatives of parties. The discussion restarted early in morning today with speeches from Mps. According to the agenda, the Parliament will also discuss the establishment of a solidarity fund for employment and social cohesion and the creation of a new single water management.
Deeper recession in 2014
Based on the report of the House Committee on Finances, Cyprus will enter into an even deeper recession in 2014, while its GDP is expected to reach 15.952 billion euro in 2014 compared to 16.423 billion in 2013 and 17.720 billion in 2012. According to the report, the 2014 budget provides for revenue of 5.639 billion euro, compared to revenue of 5.637 billion in 2013. Fiscal deficit will reach in 2014 1.121 billion euro, or 7.1% of GDP, compared to 8.4% of GDP which was provided in the initial macroeconomic estimations.
Unemployment will rise
Public debt for 2013 is estimated to reach 114.3% of GDP or 18. 767 billion euro. In 2014 public debt is expected to worsen reaching 19. 631 billion or 124.4% of GDP. Unemployment will reach 19.8%. The House Finance Committee notes in its report that Cyprus' financial needs will be covered mainly through the loan agreement with the European Stability Mechanism.
Starting to recover in 2015
Commenting on the financial situation in 2014, Governor of the Central Bank of Cyprus Panicos Demetriadis said that 2014 will be a very difficult year, as the recession will continue and unemployment and non-performing loans will rise. However, according to the Governor, it is expected that economy will start to recover in 2015.