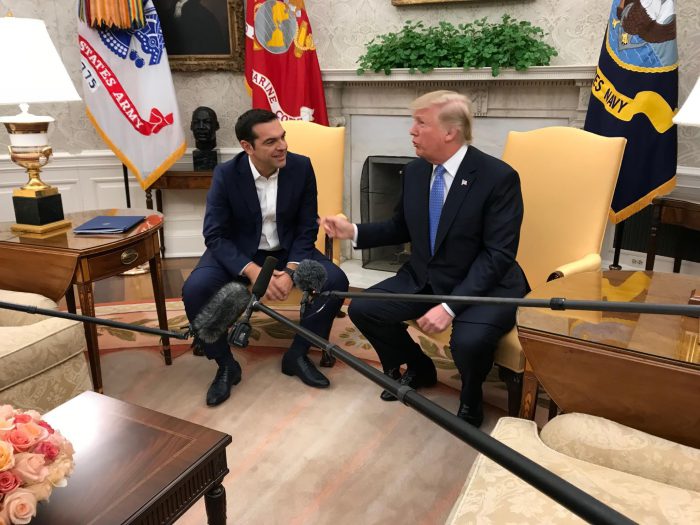 At seven p.m. sharp Greek time, the Greek Prime Minister, Alexis Tsipras arrived at the White House to meet with the American president, Donald Trump who welcomed the Greek leader himself with a warm, triple handshake that was seen by many as a good sign.
The two leaders exchanged a few words and then went inside for their meeting, but n front of the cameras, the American president stressed how much Greece has undergone in the past years but, its effort will eventually bear fruit.
Trump informed the press that he and Tsipras would talk about their cooperation on various fields such as the F-16 aircraft-fleet upgrading and underlined that the United States wish and will help Greece while Greece will do the same for the U.S.
The U.S. president told Tsipras of the great progress Greece has made within a short period of time and reassured him that Americans will support his country and the efforts made.
Alexis Tsipras reaffirmed the importance of the strong ties between Greece and the U.S. of A. adding that he will do anything that might be needed to strengthen the cooperation of the two sides, since they both have common interests and values.
Greece, Tsipras said, is an important player in the wider region, whereas he noted the role of Greek Americans on the other side of the Atlantic, reminding Trump that many of them are Republican party supporters.
After an official invite from Tsipras to Trump to visit Greece, the Greek premier wrote on Twitter how great a meaning this meeting has, regarding the strategic relations between Greece and the U.S…/IBNA