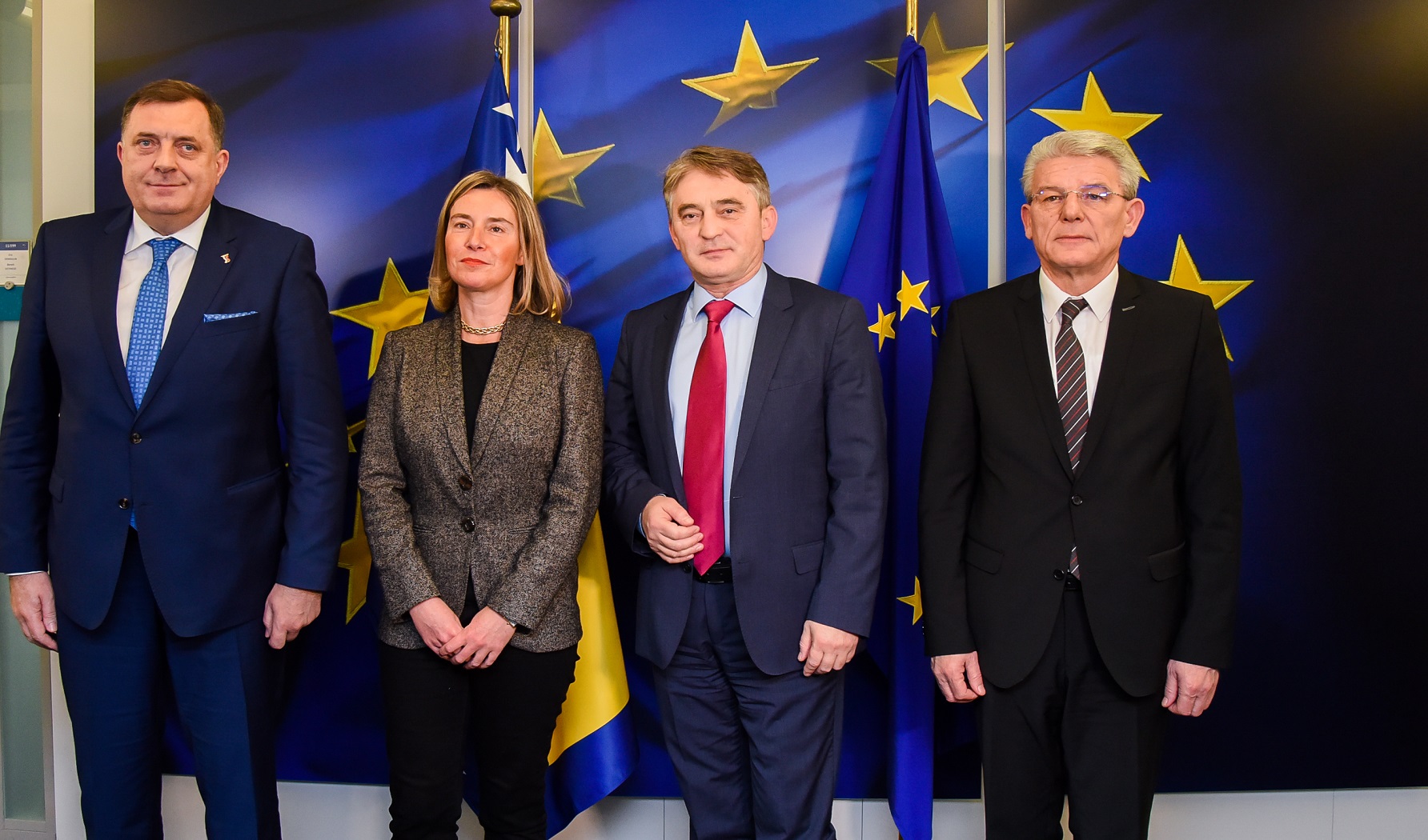 The three members of the BiH Presidency, Milorad Dodik, Šefik Džaferović and Željko Komšić, are in Brussels, where, separately or together, they will meet the highest EU officials, Johannes Hahn, Jean-Claude Juncker and, of course, Federica Mogherini, whο will the farewell dinner for West Balkan leaders.
Dodik already announced his meetings with Hahn and Juncker, but just in some corner of the news it was mentioned that the other two members will be with him. In fact, Dodik does what he has been doing all this time in the Presidency: trying to represent him as the sole person which meets the highest world politicians. This is not the first time he is doing this. Usually, he announces that he will meet somebody and later the public finds out that Džaferović and Komšić participated at the meeting.
Dodik's presence on the Brussels dinner and all the meetings were undermined by his statement that this is just a "courtesy event".
"The fact that this is an outgoing garniture of politicians, which will not participate in future governance at the European level, certainly speaks volumes about this event. But from some courtesy, of course, because an invitation of this rank is not possible to decline, this will be an opportunity to probably talk about what the prospects are from their viewpoint. They have been trying and being correct about opening up opportunities for BiH to move to the European Union", Dodik said.
The second controversy that follows the BiH Presidency's presence at the Mogherini dinner, is the fact that Željko Komšić will be there. As the Croat majority in BiH considers, he is elected with the votes of Bosniaks, but as the Croat representative in the Presidency. That is why leaders of Croat parties in BiH are asking who represents the Croats in Brussels.
"It is not Komšić who is elected to represent Croats in BiH", are most of the comments.
Analysts are not surprised with his election, as the Election law allowed this situation, but are surprised with the lack of EU reaction. As they said, EU always supported the Dayton Peace Agreement and the constitutionality of the three nations (Croats, Bosniaks and Serbs). EU should, as they said, ask who represents Croats in this composition of the BiH Presidency.
Džaferović travelled with the bitter feeling that his party, the Party of the Democratic Action (SDA), was excluded from the talks of the Slovak Ministers of Foreign Affairs, Miroslav Lajčak. A few days ago, it was suddenly announced that Lajčak met with Dodik and Croat Democratic Union BiH (HDZ BiH) leader, Dragan Čović, to discuss the situation in BiH and possible solutions for the knot in which state is stuck since there is no agreement about new composition of the Council of Ministers and country membership in NATO.
Having in mind that this is the situation in the relations between members of the BiH Presidency, citizens will count themselves lucky if their highest representatives do not cause some kind of incident at the dinner./ibna