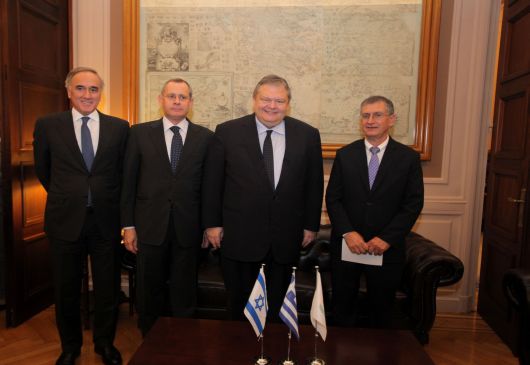 Review Hari Stefanatos
The trilateral meeting of Greece, Cyprus and Israel, first at the level of Foreign Ministers and then, following the example of the recent meeting in Cairo, at the level of leaders was decided on Wednesday to take place in Athens as soon as possible, said the Greek Foreign Minister Evangelos Venizelos.
This was announced after the trilateral political consultations at the level of Secretaries General of the Ministries of Foreign Affairs, among the three countries, at the Greek Foreign Ministry.
The Director General of the Ministry of Foreign Affairs of Cyprus, Alexandros Zenon, told CNA that in the ministerial meeting Mr. Venizelos has already extended an invitation to Kasoulidis and Liberman. The effective date will be determined among the ministries.
"The issues are known. We are concerned with all open regional crises, the stability in the region, we are concerned with issues of implementation of the Law of the Sea and issues of regional stability and security, which are the most critical of all, because people want security, because they want prosperity. And when we have wars and terrorist threats, these ultimately affect not only the daily life, but also the prospect of growth, which all countries in the region need", said Evangelos Venizelos.
Alexandros Zenon noted that the agenda of the meetings Greece-Cyprus-Israel, both at ministerial level and at the level of leaders Samaras, Anastasiades and Netanyahu, will be formed when the date to be determined will be approaching, to encompass any issues that might arise.
These tripartite partnerships recently with Egypt, and soon with Israel, were decided, Zenon said, after realising "how sensitive our common area is, with issues such as hydrocarbons, migration, smuggling, terrorism, and others".
At the same time, he added, "the particularly important role of Cyprus is highlighted, which is more decisive in its positions on terrorism and other issues, while previously we were with one foot here and another there".
At today's meeting of the three Secretaries General of the Foreign Ministries of Greece, Anastasios Mitsialis, Cyprus, Zeno Alexander and Israel Ambassador Nissim Ben Shitrit, was given by each one a general overview of the current situation in the Mediterranean region, with Zenon referring in particular to the aggressive actions of Turkey in Cyprus' EEZ.
"Changing the attitude of Turkey, is another element that adds value to these tripartite partnerships", Zenon told CNA, stressing that "these collaborations are not against anyone as Turkey systematically believes, possessed by a permanent stalking syndrome, but collaborations of countries in the region to address common problems".
(Source: CNA)