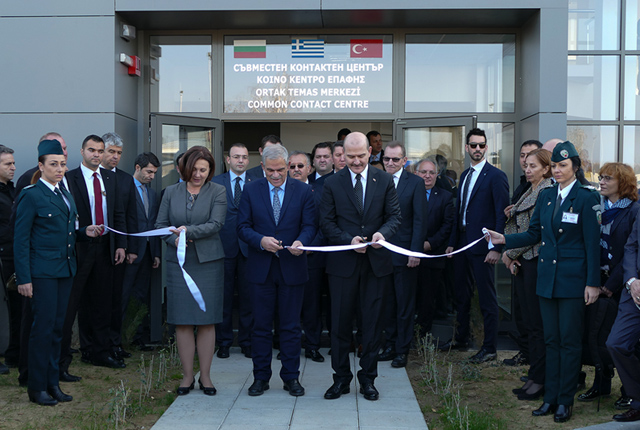 A trilateral Bulgarian-Greek-Turkish contact centre opened at the Kapitan Andreevo border checkpoint on November 25 2016, the culmination of five years' work to produce it.
The opening ceremony of the facility, which will enable exchange of information among law enforcement and customs authorities, was attended by the interior ministers of the three countries.
Undoubtedly, our expectations are high – this is the first trilateral center for Bulgaria and Greece, and the first of its kind for Turkey in general," Bulgaria's Interior Minister Roumyana Buchvarova said.
Buchvarova thanked her Greek and Turkish colleagues, recalling the long process during which mutual trust had been built up, contacts deepened and all aspects of future co-operation discussed, an Interior Ministry statement said.
As a result, in May 2015 an agreement was signed on the establishment of the centre, and a year later, in May 2016, this had entered into force.
Thanks to the joint efforts of professionals, the centre became operational on November 25, the ministry said.
Buchvarova praised the co-operation, the partnership among law enforcement authorities and the work together for the security of the citizens of the three countries.
She said that the bilateral contact centre with Greece, at Promahonas, produced excellent results and was one of the main channels for the exchange of information.
"Our countries face the same risks to security – terrorism, illegal migration, smuggling, smuggling, transnational organized crime in its various forms. They all require the most rapid and direct exchange of information," Buchvarova said.
The tripartite contact centre provides an additional opportunity to support operational and investigative activities related to the monitoring of the border and exchange of administrative information.
The opening of the centre coincided with other developments of the past 24 hours, including violent clashes between residents and police at Bulgaria's Harmanli refugee camps, and including the threat by Turkish president Recep Tayyip Erdogan that he would let hundreds of thousands of migrants through into Europe if pushed by the EU. Erdogan issued the threat in reaction to a non-binding vote by the European Parliament to freeze talks on EU membership for Turkey, the BBC reported.
And also on November 25, the trial began of Petar "Feathers" Nizamov, who became well-known earlier this year after he and others were filmed binding three Afghanistan refugees with plastic packing ties after capturing the three near the Bulgarian border with Turkey.
Nizamov, if found guilty, could face up to six years in prison for illegally capturing the three Afghans. He and other participants in so-called "civic patrols" to capture refugees have claimed that they were carrying out "citizens' arrests" – though no such concept exists in Bulgarian law./IBNA
(Photos: Interior Ministry of Bulgaria).