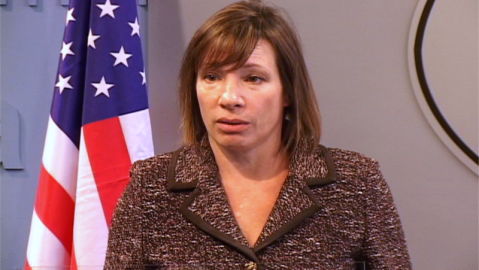 Pristina, April 4, 2014/Independent Balkan News Agency
By Elton Tota
US ambassador to Pristina, Tracey Ann Jacobson has held a meeting with leaders of the main political parties in Kosovo, except for Self Determination.
According to IBNA's sources in this meeting, which was held without the presence of the media, the participants talked about the next parliamentary elections, establishment of the Tribunal for the war crimes taken place in Kosovo and the transformation of EULEX mission.
This meeting precedes the visit to Kosovo of the director for Central and Southern Europe in the US Department of State, Jonathan Moore. He will demand for the creation of the Tribunal (Special Court) to be established as soon as possible.
In case parliament of Kosovo fails to vote in favor of the creation of the court, then the issue would automatically go to the UNO Security Council which would give way to the creation of the court based on Resolution 1244. US don't want the creation of the court to take place through the Security Council, as that would be considered as damaging for Kosovo.
As far as elections are concerned, political leaders have pledged in front of the US ambassador that they would engage for normal, democratic and fair elections.
The US embassy also declared that this meeting discussed the electoral agenda.
"The ambassador initiated this meeting with political leaders as part of the constant efforts of the Embassy to back the important legislative agenda of Kosovo", declared the American Embassy in the official response given for IBNA.
The meeting has also discussed the establishment of the court which will deliberate cases relating to war crimes in Kosovo.
Sources within this meeting told IBNA that the US diplomat has insisted that the establishment of the court be made as soon as possible by the parliament of Kosovo.
"Ambassador Jacobson said that if the Tribunal is not established by the parliament of Kosovo, it will be established by UNO. Political leaders have been demanded to establish the Tribunal on war crimes as soon as possible. If parliament doesn't do it, then the UNO will do it", says a source inside the meeting for IBNA.
As far as EULEX is concerned, it was demanded that only a few powers must be lifted from it and that there shouldn't be essential changes of this mission.
Officially, representatives of political parties have not issued any declarations about the meeting. /ibna/