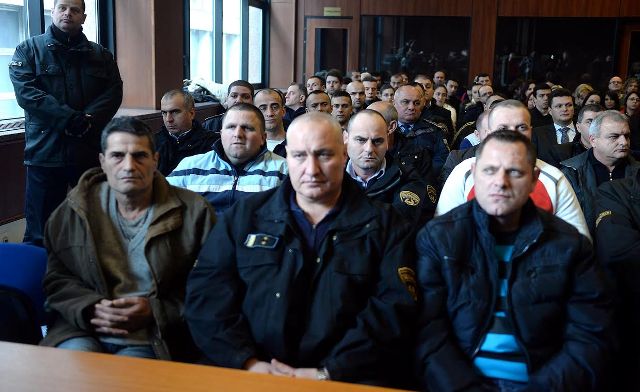 Skopje, 12 February 2016/Independent Balkan News Agency
By Naser Pajaziti
The trial relating to the armed clashes taken place on 9 and 10 May of last year in a Kumanovo quarter, where 8 police officers and 10 members of an armed group, remained dead, is taking place in FYROM. The trial is being held against the 29 defendants known as the Kumanovo group.
So far, the defendants have been heard. They have testified that they are not terrorists and that their aim was not to attack police. Rufki Dogani, Kosovo citizen, accused of being a member of the group, said that the organizers of this group, who had entered in Kumanovo, had been killed as they had surrendered to police. The people in question are Beg Rizaj, Mirsad Ndrecaj and two others.
The other defendant, Nasuf Bekiri has declared that he had not arrived in Kumanovo to fight, but that they had been victims of political games.
"We do not accept the accusation, because we have been victims of an orchestrated political process. We have realized that we have been taken advantage of for political purposes", Bekiri declared.
The other defense lawyer, Lupco Veselinovski says that the group has entered in Kumanovo on 2 May 2015, on the day when the city had hosted the congress of the party in power VMRO-DPMNE.
The trial is expected to continue until 23 February and special police members, who were part of the 9 May operation and other members of the Prosecution, are also expected to testify. The process has attracted much interest among political circles and the international community, who have demanded a fair judicial process in order to shed light upon the truth.
Leader of the Macedonian social democrats SDSM, Zoran Zaev accuses VMRO-DPMNE led by Nikola Gruevski about this incident.
"There are strong indications that the case of Kumanovo has been an orchestrated by the government. This happened after the publication of registered conversations in which members of the Agency for Counterintelligence talk with members of the Kumanovo group. Ali Ahmeti also said that his collaborator, seen a little before the events of Kumanovo, has sent people to talk with these boys in Kosovo. I hope that the investigation will shed light upon the events of Kumanovo", Zaev said.
Meanwhile, VMRO-DPMNE said that it will not comment on such accusations, leaving justice to do its job.
Leader of the Albanian party BDI, Ali Ahmeti demands a detailed inquiry and for the case to be given to the Special Prosecution to shed light upon the truth as to what really happened on 9 May 2015 in Kumanovo. Among members of the armed group were also several former members of the National Liberation Army, of which Ali Ahmeti was the political chief in 2001. Ahmeti said that on the day of the incident, he had communicated with the group and through OSCE brokerage, they were delivered to police. /ibna/