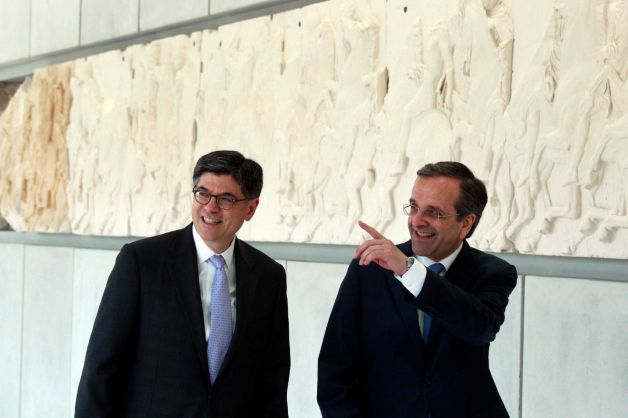 By Lefteris Yallouros – Athens
US Treasury Secretary Jack Lew visited Athens Sunday for talks with Greek Prime Minister Antonis Samaras and Minister of Finance Yannis Stournaras.
While Mr. Lew was clear his visit did not mean he would be offering any financial assistance to Greece, there was great symbolic value to it and clearly demonstrated Washington's support of Greece's efforts to exit the ongoing financial crisis.
"We recognize the difficult decisions and shared sacrifices of the last few years. Of course the road ahead is still challenging. Continued reform would be essential to laying the foundation for sustained growth" Lew told reporters after meeting Antonis Samaras.
The Greek premier stated talks with the US Treasury Secretary focused on the development and stabilization of the economy. Antonis Samaras is to visit Washington August 8th for talks with US President Barack Obama.
Jack Lew's visit came a few days after German Finance Minister Wolgang Schauble was in the Greek capital too. The American politician was far more welcome in Greece than Mr. Schauble who is highly unpopular and considered the "architect" of Greece's financial misery by the public.
The two visits also showed the major differences between the US and Germany over how Europe's financial crisis should be fought.
While Mr. Schauble stressed the importance of pushing through harsh measures and reforms in line with adjustment programs, the US Treasure Secretary said it was time for Europe to start looking at ways to spur growth and that he would attempt to persuade Europe's governing elites to take the US as an example.
"Engagement with Europe remains at the top of my agenda, because U.S. jobs and growth are inextricably linked to Europe achieving growth and prosperity," Mr. Lew said in Athens.