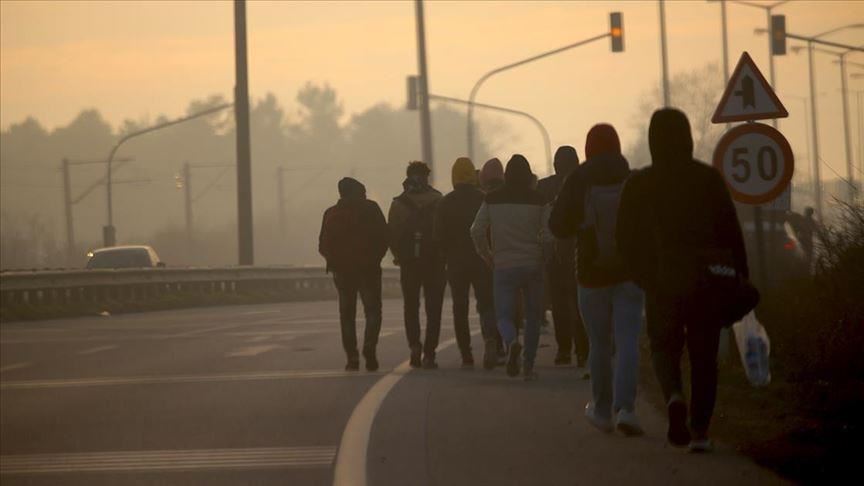 On Tuesday we observed intense mobility by refugees across Adrianoupolis, with most of them arriving at the Pazarkule area directly across Kastanies. They arrive by bus, taxis and cars to get to the zero point of the border in the hope of crossing over to the other side. In Turkey, the statements by Internal Affairs Minister Suleyman Soylu that more than 136,000 refugees and immigrants have crossed into Greece are circulating in the media. Turkish media also broadcast images, possibly archives, showing refugees crossing over to Greece using boats or by swimming across the border, thus keeping alive the hopes of those at the border.
In the village of Doria, which used to be the center of traffickers, a tent camp has now been set up with people clearly stating that they will attempt to cross the border. On the other side we see Greek soldiers patrolling almost every 100 meters, while the Greek police are guarding the entire border using patrolling jeeps.
In the Evros Delta there is a large crowd of refugees and immigrants who see Greece as the "weak spot" and are trying to cross the border, without much success thus far.
But the largest concentration of refugees can be found on the other side of Kastanies. Most of them are originally from Afghanistan, Iran and fewer from Syria. They arrive in the area in order to stay for a long time.
"We want thousands of people to come together so that we can cross the border without them being able to stop us", one young man from Afghanistan tells us.
Another Afghani believes otherwise, as he revealed to us that he had his own plan to cross the border. "I'll wait for a while until it gets less crowded, and then I will find a way to cross over", he says.
The fact that the Turkish militia is monitoring those movements by the refugees and immigrants without intervening is striking; meanwhile, in most cases the crowds are setting up temporary camps in military areas or restricted areas!
"Until recently, if we drove a refugee or an immigrant near the border, we were going to get arrested. Our police had the right to ask them if they had travel documents. But now the taxis are full of refugees and immigrants and they leave them right next to Evros", our taxi driver tells us.
However, estimates suggest that at least 20,000 refugees and immigrants are found in Adrianoupolis. While some of them understand the situation and leave, at the same time more and more people arrive from the Turkish mainland in the hope that at some point Greece will be forced to open its borders./ibna