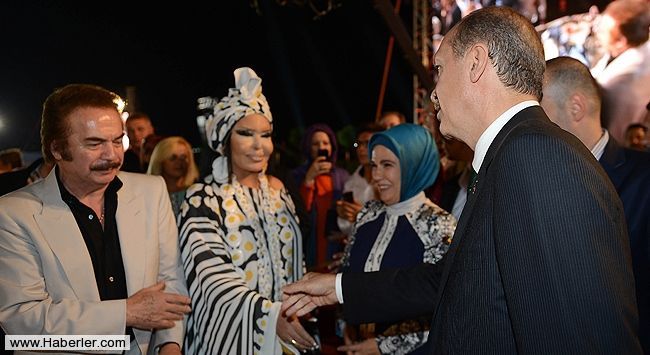 The Turkish Prime Minister invokes her statements to show that he is right.
By Manolis Kostidis – Ankara
One of Recep Tayyip Erdogan's main supporters, in this period that many accuse him, is the transsexual singer, Bulent Ersoy, who is considered the "diva" of the turkish folk music. The turkish public love her, since they listen to her songs and watch her for many years in her television programs.
Ersoy applauds the Turkish Prime Minister, and even wears an islamic headscarf in a television program and Erdogan calls upon the statements of the transsexual singer to show that he is right in his views. It is puzzling, however, how can a islamist Prime Minister have such a political alignment with the transsexual singer and no reaction from his conservative voters.
"I adore Erdogan. I like him. He is a tough man. A leader. He slams his hand on the table. He doesn't backtrack on what he says. He has a unique style. He is  like a lion. He has the gift of the leader. I do not want him to become President because he will be less active", Ersoy stated at a show in the television network SKY 360.
It is not just this last example of admiration towards the Turkish Prime Minister. A few days ago, she traveled to Halicarnassus and speaking to the opposition mayor pointed out that "do not get me wrong, but the Prime Minister has built us fabulous roads; they are like landing strips. May he always prosper".
The transsexual singer had also supported Erdogan during the protests at Gezi parkon June 2013. During the days of the major conflicts between the protesters and the police, Ersoy called on the protesters to and said that "these episodes are a shame. You reserve your reaction and bring it out when you vote. Do not break, do not cause episodes. We hanged out Prime Minister Menderes, but now we are shamed. So let's calm down".
These statements were followed by Erdogan's, who immediately made a statement in which he expressed his satisfaction saying "in the morning I heard Bulent Ersoy's statements.  She called on the people to show their frustration in the elections. She stressed that those who come with elections leave with elections. Do not resort to violence. You see that common sense is one and only".
The transsexual singer's islamic headscarf   
The sixty year old overweight diva does her best to win the appreciation of the conservative audience which her heavy folk music addresses. In her favorite show, she has appeared in front of mosques reciting prayers from Qur'an. A few weeks ago she caused a major unrest in Turkey when for the first time she wore the islamic headscarf to sing one of her favorite songs. Many wondered how can the conservative party go hand in hand with a transsexual.
He was a prominent singer and then had a sex change operation.
Ersoy is considered one of the biggest divas in Turkey's contemporary music scene. Even before she had a sex change operation in 1981, she was already as a man, a famous singer.
After her operation, the general's junta regime had forbid her to make public appearances and was not issuing her a new ID. She had made a suicide attempt as a reaction to these prohibitions.
In 1988, with the revision of the turkish Civil Code from Turgut Ozal's conservative government, which allowed to people who had a sex change operation to acquire an ID, she returned to singing and acting.
She opposed the generals same as Erdogan did.
Ersoy, in a television show had, expressed her clear reaction to the war with PKK in southeastern Turkey. "Ok the homeland id undivided etc. But until when will mothers give birth to children just to bury them? I don't know what it is to be a mother and I will never know. But as a person with sensitivities I understand how they hurt. If I had a son I wouldn't bury him for somebody else's war", she had stated in 2008.
The prosecutor filed a lawsuit against Ersoy for "discouraging young people from exercising their military service", but the judiciary case came to an end with the help of the turkish government.