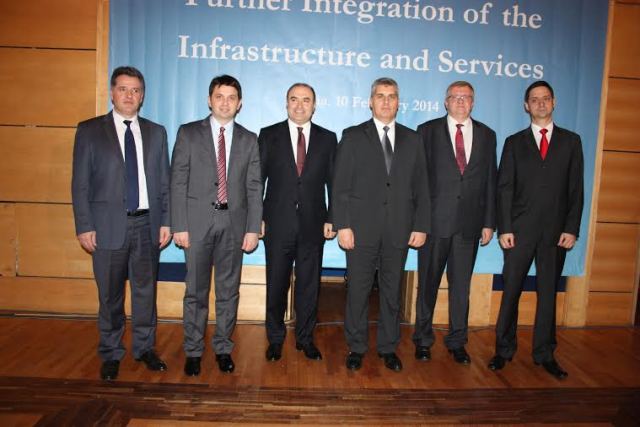 Tirana, February 10, 2014/Balkan Independent News Agency
Ministers of transport of Albania, Kosovo, Montenegro and FYR Macedonia have met in Tirana to discuss over the possibility to further integrate infrastructural services of participating countries.
Present in the meeting was the Minister of Transport of Albania, Edmond Haxhinasto, Minister of Infrastructure of Kosovo, Fehmi Mujota, Macedonian Minister of Transport and Communication, Mile Janakieski, Montenegrin Minister of Transport and Maritime Affairs, Ivan Brajovic, EU representative, Francois Beugeot and General Director of SEETO, Nenad Nikolic.
Amongst the main priorities, minister Haxhinasto mentioned the "Road of Arber" which will link Tirana to Skopje.
He also added that the construction of a new port in Shengjin would make this investment even more valuable.
As far as air transport is concerned, the minister said: "The promotion of the Southern Ionian Coast, with the construction of an airport near Saranda or the construction of a high standard road infrastructure as part of the Adriatic-Ionian corridor would not only be in the interest of our country, but it would also significantly reduce travel times for the numerous tourists from neighboring countries who visit the Ionian coasts every year".
Haxhinasto also said that there are plans to make the airport of Kukes operational in the near future.
As far as railway infrastructure is concerned, Haxhinasto said that Albanian railroad would be feasible if it's linked to the neighboring countries, which means the rehabilitation of the rail link to Montenegro and the construction of the missing rail link with FYR Macedonia, while adding that studies will also be made for a railway link to Kosovo.
Another important issue was cooperation in adopting a community legislation and then intervening in the joint border crossing points, both in physical infrastructure and administrative infrastructure or the unification of documentation.
"Our countries are under the process of negotiation to draft a Treaty for a Western Balkan Transport Community, in order to set up an integrated market of transport with the European Union. In the framework of this forum, we will also address several proposals relating to the full liberalization of the transport market between our countries", said Haxhinasto. /ibna/