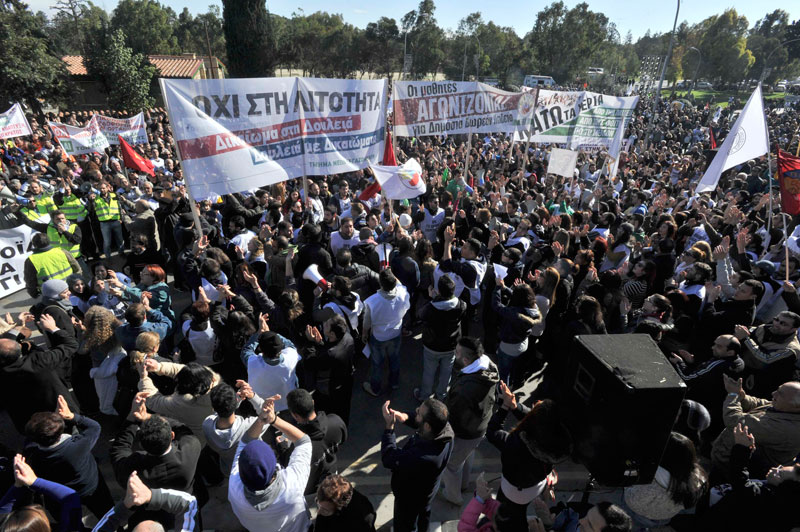 By Kyriacos Kyriacou – Nicosia
The next tranche of European financial assistance will not be given to Cyprus unless the foreclosures and isnolvency laws are in line according to the terms agreed in the islands' bailout program, European officials said on Friday.
Eurogroup Chairman, Jeroen Dijsselbloem and EU Commissioner responsible for Economic and Monetary Affairs and the Euro, Jyrki Katainen reiterated that legislation passed by position parties on Saturday were incompatible with the memorandum of understanding agreed with international lenders.
Among points of contention were amendments inserted by lawmakers linking adoption of the foreclosures law with an insolvency framework, which is not expected to come into effect before the end of the year.
President Nicos Anastasiades has referred four laws to the Supreme Court, which must decide whether they are in line with the country's constitution. He also sent back to parliament two other bills found to be incompatible.
Finance Minister Harris Georgiades said he had asked the Eurogroup to keep the matter open to give time for final decisions to be taken calmly and rationally. "I think we now have some room to revisit the matter with seriousness and finalise our decisions collectively," Georgiades said. Georgiades said that the effort to reform and consolidate the economy will continue.
Civil servants go on strike
Meantime, economic measures adopted as part of the memorandum of Understanding continue causes new strong reactions. Civil servants` trade unions have decided to stage a 24-hour warning strike next Friday, 19 September, to protest the recent statements made by the Minister of Finance regarding further cuts in salaries and pensions of public sector employees. The decision was taken during a joint meeting held here today with the participation of Civil Service Union, teachers' unions, Police Association and Cyprus Army Officers Associations.
The strike is expected to paralyze public sector services. Schools will remain closed next Friday due to the strike.
Trade Unions have warned that they would escalate their measures "depending on developments."