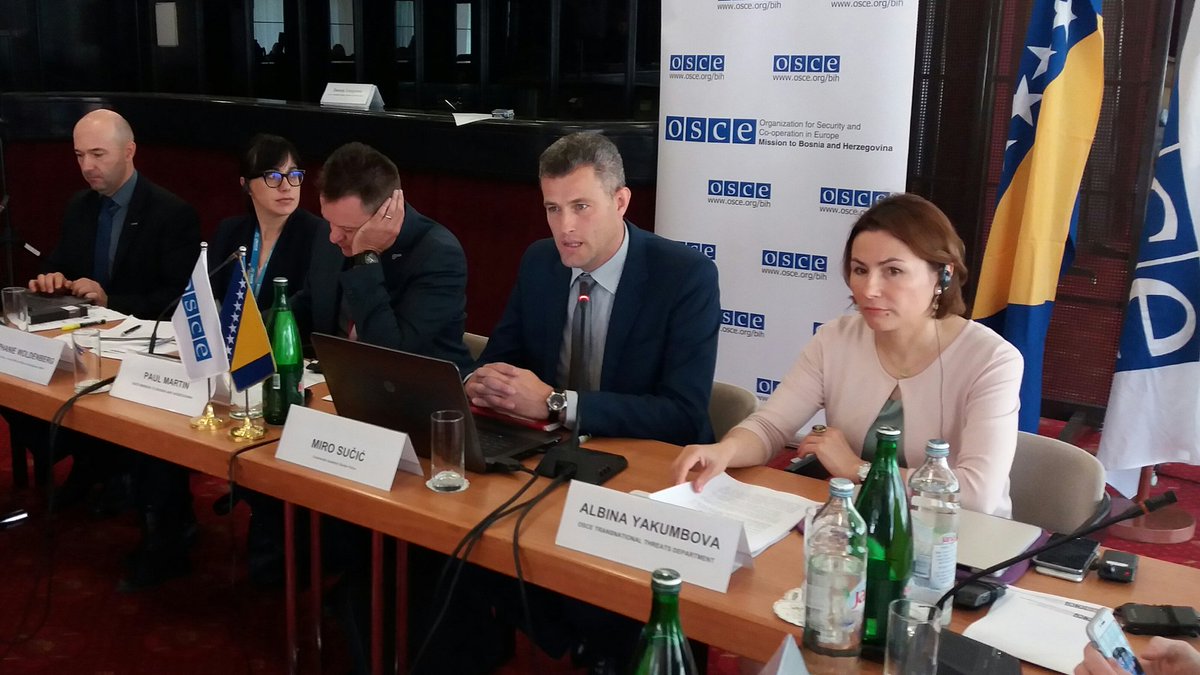 The OSCE Mobile Training Team for the identification of foreign terrorist fighters, newly established OSCE body, in last three days in BiH capital, Sarajevo, held  first on-site interactive training course.
For the state Border Police, this was very important course since BiH is known as a country with a significant number of fighters in para military units of radical Islamists in Syria and Iraq. State Court, until now, sentenced 23 persons, returnees from foreign battlefields. BiH security authorities often stress the importance of prevention in this case which can be implemented through "deradicalization" of, especially young, radical islamists in country. Despite the fact that BiH Minister of Security, Dragan Mektic, stated that there was no departures of radical islamists on foreign battlefields in this last year, INTERPOL few days ago issued a warrant for one young man from BiH who left the country and went to Syria and Iraq region.
Therefore, OSCE training course in BiH have special importance in this case and will help security of all citizens. As it was announced from OSCE, during the three-day event, 22 border officers from airports in BiH learned how to identify potential foreign terrorist fighters at the border crossing points in compliance with international human rights standards.
The programme included discussions on international, regional and national legal frameworks, effective use of databases, detection of forged travel documents, risk analysis and management, understanding of behavioural indicators and tabletop exercises. The training seminar was delivered by members of the OSCE Mobile Training Team, from Austria, Algeria, BiH, Malta and Spain.  Expert speakers from OSCE, INTERPOL and UNHCR supported the event by sharing their knowledge and expertise.
"The phenomenon of foreign terrorist fighters presents a complex set of risks and challenges to international and regional security. It is therefore important for border officers, especially those working on the front lines at the airports, to upgrade their skills and knowledge to better identify them at the borders", said a member of the OSCE Mobile Training Team, Miro Sucic, representative of the BiH Border Police.
Head of Border Security and Management Unit of OSCE Transnational Threats Department, Dennis Cosgrove, stated at the seminar that the identification of foreign terrorist fighters at the borders is a critically important task for border services. He added that, in the absence of sufficient time or intelligence, the ability to understand psychological and behavioral indicators is a useful tool.
The OSCE Mobile Training Team, established by the Border Security and Management Unit of the OSCE Transnational Threats Department in 2016, is composed of 17 selected border and counter-terrorism experts from OSCE participating States and Partners for Co-operation, including a representative from BiH./IBNA