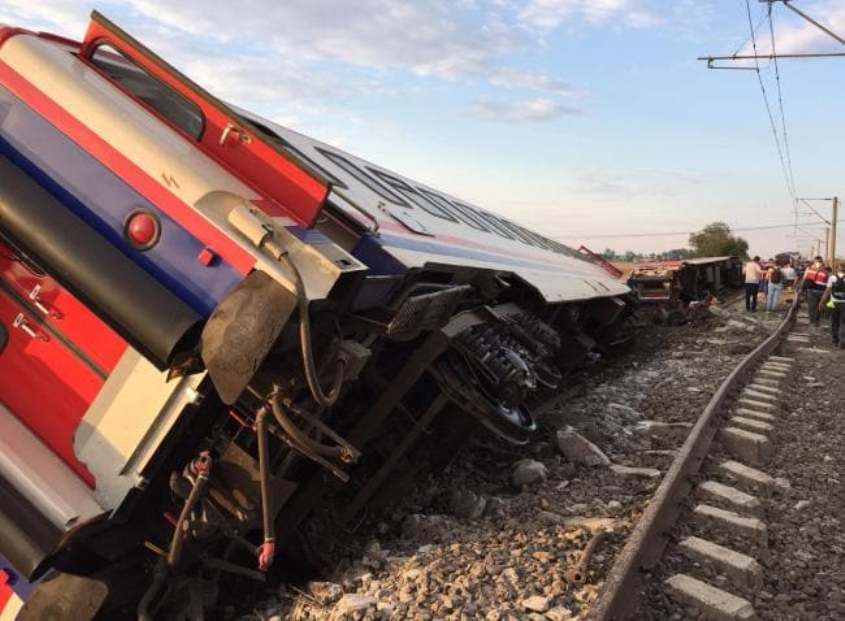 At least 10 people were killed and 73 others injured after bogies of a passenger train derailed in Turkey's northwestern Tekirdag province on Sunday, a Health Ministry official said.
"According to our first estimates, 10 people lost their lives and 73 people were injured," Eyup Gumus, the Turkish Health Ministry's undersecretary, told Anadolu Agency.
The train, carrying 362 passengers and six train staff, was traveling from Edirne province to Istanbul when five bogies derailed near Sarilar village of Tekirdag's Corlu district.
In a Twitter post, Ibrahim Kalin, the presidential aide, said: "All the relevant units were mobilized for evacuation."
Kalin conveyed his condolences to the families of those who lost their lives in the accident and wished speedy recovery to the injured passengers.
Around 100 ambulances have been sent to the scene, while it has also been reported that the Ministry of Health has dispatched air ambulances to the region.
Additionally, Turkish General Staff has also sent military helicopters to airlift the wounded passengers.
Mehmet Ceylan, Tekirdag's Governor, said the accident was caused by heavy rains in the region.
Later the Ministry of Transport, Maritime Affairs and Communications said in a statement the accident occurred after the railway track slipped down from its original spot due to torrential rains.
Meanwhile, President Recep Tayyip Erdogan also was informed about the incident by Interior Minister Suleyman Soylu and Minister of Transport, Maritime Affairs and Communications Ahmet Arslan over the phone, a presidential source said.
Later, the Prime Ministry imposed a temporary ban on broadcasting the accident./IBNA
Source: Anadolu Agency