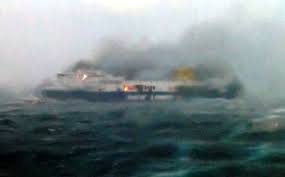 Athens, December 30, 2014/ Independent Balkan News Agency
By Spiros Sideris
Ten persons is the death toll of Norman Atlantic, as is confirmed by ministers of the Italian government. The identity of only one of them has been known, while the others have not yet been identified. Of the total of 478 passengers, 432 persons were resqued according to the information of the representative of the Ministry of Shipping. Confusion with the lists of those resqued and the Nordic Atlantic passenger list has causes confusion regarding the possiiblity of the existence of any missing persons.
According to the Transport Minister, Maurizio Lupi, 427 people, among them 56 members of the crew, have been safely transported to shore or other sail boats.
The list of passengers included 478 names, of which 422 passengers, but the minister stressed that this figure should be treated with caution.
In any case, it is "very premature" to talk about missing persons, insisted the minister. He explained that even some of the survivors are not included in the passenger list. "We do not know the exact number of passengers," he said at a press conference.
Defence minister, Roberta Pinotti, said that the investigation to identify any missing persons continues, although the operation for the evacuation has been completed.
As mentioned in the last update the spokesperson of the Greek Maritime Ministry, the death toll rises to eight, of whom only one has been recognised.
He added that the lists of survivors and passengers of the vessel Norman Atlantic are being checked again, as there is confusion about a few tens of passengers who are being sought by their relatives.