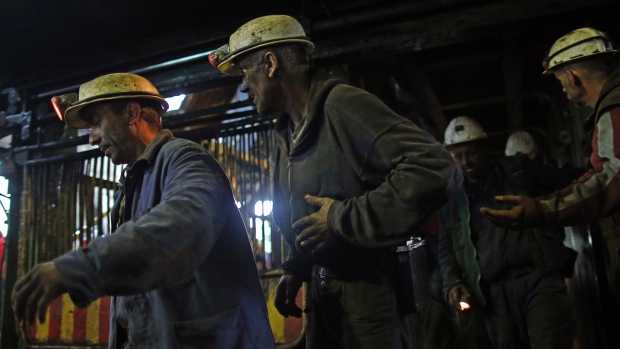 By Mladen Dragojlovic – Banja Luka
Five miners died in a collapse of the material in Raspotocje coal mine , near the city of Zenica, and 29 of them were rescued after more than 20 hours in the deepest pit of BiH.
The rock collapse was a result of earthquake, which struck this area at Thursday afternoon. At the time of the tragedy, a total of 56 miners were in the pit. Thirty four miners were trapped behind a large amount of coal, but 22 of their colleagues avoided the tragedy and successfully left the pit. Blocked miners were in danger to stay without fresh air and rescuers had no time to wait. Right after the tragedy they begun to dig through the coal first to provide fresh air and then to rescue miners.
At the same time, blocked miners with smaller injuries begun to dig through the coal from the other side. In front of mine, on the ground, families were waiting to see what will be a destiny of their fathers, husbands and brothers. Several times situation was critical since more coal was collapsing.
Fortunately for the majority of the miners, rescuers found a way in on Friday morning and 29 of the miners reunited with their families. The families of five miners did not have reason for celebration.
"The rescuing team will try to retrieve the bodies of four miners, for which we know where they are. We are still searching the body of the fifth miner", said to the media mining inspector, Nuraga Duranovic.
He added that rescuers hoped that all miners were alive but, after they reached them they noticed that five were missing. They had to enlarge the hole to bring equipment in the pit and get the bodies on the ground.
During the night, the families of Fejzo Isakovic, Mehmed Dizdarevic, Mehmedalija Halilovic, Fahir Kalac and Hajrudin Bradarac were waiting the result. They were happy when they heard that the rescuers had reached the miners but just a minute later their happiness was replaced by sorrow. Many local and international officials sent their condolences to the families of the victims.
This tragedy is not the first in Raspotocje. Several miners were injured in three similar cases. This pit is more than 800 meters deep and coal collapses are more often in the last years.
The biggest tragedy in Raspotocje happened May 12, 1982 when 39 miners died in a methane gas explosion.