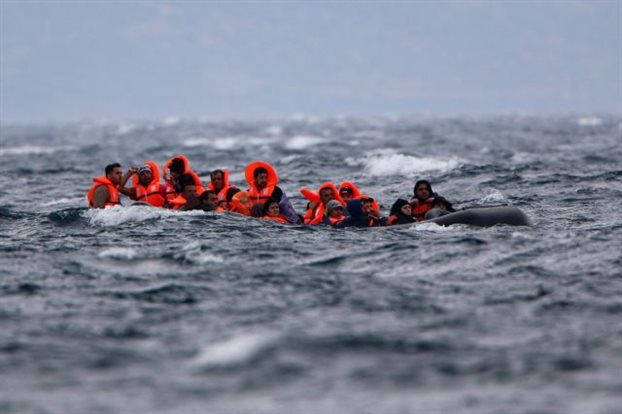 Athens, November 2, 2015/Independent Balkan News Agency
By Spiros Sideris
Without end continues the refugee drama in the Aegean Sea. This time 11 refugees died when the hexameter plastic boat carrying them sank while approaching a rocky area near Samos, 20 meters from the shore, just before they occupants disembark.
From the dead five were women, two are children and four infants. Most of the dead were trapped in the boat's cabin. The survivors are 15 while investigations are ongoing as one or two persons are still missing.
The new wreck occurred at dawn Sunday. At the spot is a boat of the Coast, volunteer groups and divers. Point windy.
A second wreck was also found occurred Sunday off the Turkish coast, north of Pharmakonisi, but is not clear yet clear whether there was in the Greek or the Turkish waters.
So far they have identified and collected four corpses, while four people survived. Seven people are missing from the shipwreck,.
As a person who was found swimming form the boat of Frontex, boat with about 15 people sank about half an hour after her departure from the Turkish coast.
Surveys continue by both countries. On the Greek side at the spot there is a boat of the Coast, along with a Super Puma.
Meanwhile, after a big operation in Rhodes, 171 refugees landed safely on the island.
Their boat, which was large and in relatively good condition, was immobilized at a distance of about 30 meters of the "killer" rocks of the city of Rhodes, where a few months ago another vessel had sunk, resulting in the death of three people, including a child. This time, fortunately, the situation was place under control.
The whole operation was coordinated by regional harbormaster Yannis Argyriou, who was at the spot the whole time, while also strong was the presence of volunteers, people who with their vessels help for the safe disembarking of refugees.
In the hospital, for precautionary reasons mainly, were transported two people, an 11-year old girl and a 50-year old man.
Queues on the border with FYROM
At 3000 are estimated the refugees who crossed the border between Greece – FYROM, at the height of Idomeni, in the last 12 hours (from 6 am to 18:00 Sunday), according to the General Police Directorate of Central Macedonia.
The refugee flow is ongoing, while since Sunday evening more than 2,500 refugees have been put on hold.