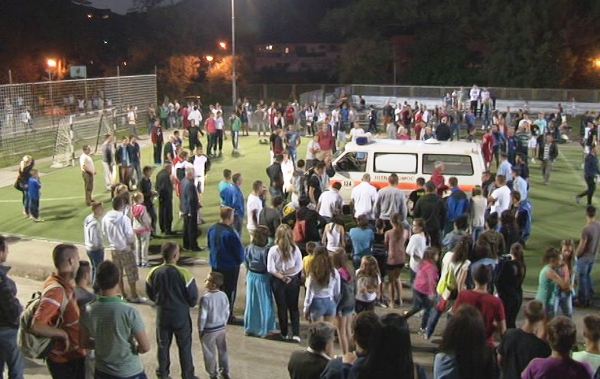 By Mladen Dagojlovic – Banja Luka
The final match of the 19th Memorial soccer tournament, "Ratko Rade Sobota" in the city of Foca, Republic of Srpska, between the teams of Plužine municipality and Car repair service "Saki", ended in the middle of the first half because of the open fracture of the leg of Plužine player, Goran Blagojevic.
The serious injury occurred at Thursday night  in a crash between Blagojevic and the opponent goalkeeper, Darijan Matović.
Blagojevic was immediately transported to Foca hospital, where doctors put him on urgent surgery. According to hospital information, surgery was successful and Blagojevic's condition is better.
The scene on the ground shocked the audience and all the players. The tournament was immediately terminated, and the teams reached an agreement with the organizers to share the first place and the cash prize of 2.500 BAM (about 1250 Euros)
The team from Plužine municipality, in Montenegro, for several years regularly participate in this tournament and on several occasions won the first prize.
The captain of the team, Milivoje Dondic, said that he regrets the tournament ended in this way.
"We will come again next year, I hope that we will not see such incidents ever again", said Dondić.
The home team captain Nikola Mojović apologized to the guests from Montenegro saying that all players are sorry for the game ending in such a way. He added that the incident occurred in the game and there was no intention for that.
The tournament is traditional event in the memory of late soccer player Rade Sobot.
(photo: www.foca24.info)