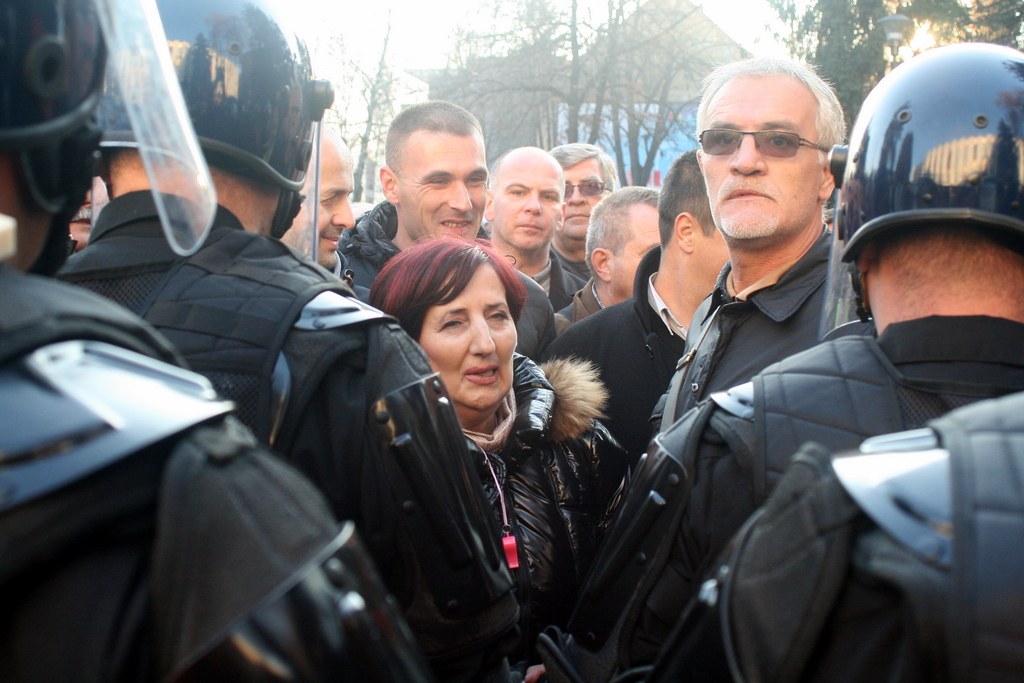 Banja Luka, December 28, 2015/Independent Balkan News Agency
By Mladen Dragojlovic
RS police and members of the RS Trade Union Alliance clashed on Monday afternoon in Banja Luka when members of the Trade Union, who were protesting against the adoption of the RS Labour Law, tried to enter the National Assembly Building in Banja Luka.
The demonstrators, led by the President of the Alliance, Ranka Misic, demanded that the RSNA return the bill back to the regular procedure and abandon the intention to discuss it in an urgent procedure. This proposal was supported by delegates of the opposition parties. Several opposition MPs directly addressed the demonstrators, expressing their support. At the session, they requested that the Labour law to be returned into regular procedure but the proposal didn't have the suport of the ruling coalition in RSNA.
The demonstration, as previously announced, began in front of the House of Unions in Banja Luka and a column of several thousand trade unionists from all over the RS has reached the RSNA building where the bodies formed a ring around the building. Misic, on behalf of branch unions, demanded to speak with the RS Prime Minister, Zeljko Cvijanovic, but the PM didn't accept the invitation. Deputy Prime Minister of RS, Anton Kasipovic, said that Cvijanovic has authorized two vice presidents and the respective minister to hold the talks with Trade union representatives. Misic rejected this proposal, went out of the building and called on the demonstrators, a few hundred of them, to forcibly enter the building. Police responded and prevented the demonstrators in their intent.
RSNA session began at 15:00, as it was planned, but the agenda was adopted without the presence of opposition MPs who were at the meeting. Opposition NDP representative, Dragan Cavic, reacted angrily and demanded the restart of the sesssion so that the opposition had the opportunity to make objections to the agenda.
"This is the final act of the ruling coalition in which they showed their true face, and confirm that they do not care about the citizens but for themselves", Cavic told reporters.
The session resumed at 17:00 and the proposal of the opposition and Trade Union was rejected after which the SDS sought a break. During the session, Misic broke RSNA session with its address to MPs and demand that ruling parties reconsider the decision and back the Labour Law returned to regular procedure.
According to unofficial information, several protesters requested medical assistance and some of them were injured in a clash with the police. By the late afternoon hours, the conflict between the police and union members was nowhere near an end.