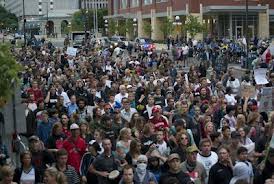 By Natasa Radic – Zagreb
A referendum among members 15 different trade unions of public and government agencies showed that the members support the possible general blockade of the entire system and further trade union action if the government does not meet their requirements. This includes the possibility of the general strike as well. The referendum was a success as  57 percent of the all union members voted, of which 82 percent were in favor of further trade union actions, considering that the situation in the country is getting worse.
Unions want the Croatian government to return all the cuts, allowances and coefficients. They seek firm guarantees that the government will no longer oppress workers' rights and continue with the meaning less austerity measures.
Union leaders have announced legal charges against Finance Minister Slavko Linic on the basis of defamation. He called the representatives of the trade unions "an extended arm of Tomislav Karamarko (president of the opposition Croatian Democratic Union)," and said that they work in favor of the opposition party.
Unionists claim that the Minister Slavko Linic used the recent election silence for government propaganda to draw the voters to vote for the his party – socialdemocrats – SDP.
-We have experienced an avalanche of meaningless accusations,and the one that mentions us as the extended arm of HDZ has only one goal and that is give the fals explanation to SDP voters why the unions are against the policy of the ruling party that only includes cuts. That is the only purpose of such irresponsible allegations which have no connection with reality – said the president of Matica hrvatskih sindikata (Croatian Unions' organisation) Vilim Ribic. He noted that such a government and SDP have nothing to do with social democracy.
-I support the actions of trade unions, and the general strike and blockade of the system. Obviously there is no other solution. This is the first social democratic government that systematically deprives workers' rights and thereby dishonors the citizens and voters – said Rea Bilic, cashier from Zagreb.