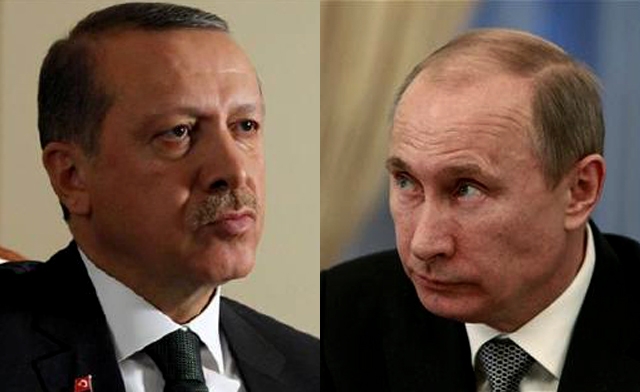 Ankara, October 9, 2015/ Independent Balkan News Agency
By Manolis Kostidis
ERDOGAN THREATENS TO STOP ACQUISITION OF GAS AND TERMINATION OF AKKUYU CONSTRUCTION
MOSCOW REFUSES TO PROVIDE EXTRA AMOUNTS OF GAS TO TURKEY!
MANOLIS KOSTIDIS
A serious trade rupture has begun to break out between Turkey and Russia as a result of their differences over Syria.
Replying to a question of a journalist during his trip to Japan on the possible impact on Turkey-Russia trade relations, Recep Tayip Erdogan had warned important agreements between the two countries could be cancelled. "Russia must consider these issues. If the Russians don't do the nuclear plant in Akkuyu somebody else could construct it. They have already invested 3 billion dollars however. We are the largest consumers of Russian natural gas. If they lose Turkey it will be a big loss for them. If needed Turkey can be supplied with gas from other sources" he said.
Immediately after the statements of the Turkish president, Gazprom CEO Alexei Miller announced that his company will not satisfy Turkey's request to purchase 3 billion cm of additional natural gas through the Blue Stream pipeline. Turkey took the decision of the Russian company to be "political".
Turkey is not happy with Russian military operations in Syria as it believes it to be in favor of the country's president Basar Al Asad. Last week Russian fighter planes violated Turkish air space near the border with Syria, as Turkish jets had been "locked" in Russian fighter radars causing tension between the two countries. Russia had talked of "radar malfunction" on its fighters.
Erdogan's warnings to Moscow are considered real but not directly enforceable as Turkey buys 55% of its gas from Russia and it is not possible to find such amounts immediately by other sources such as Iran, Azerbaijan and Algeria as the infrastructure for such a big change is not available. The biggest problem will arise in western Turkey as the interruption of gas flow from Moscow would mean the absence of supply from the pipeline that reaches eastern Thrace through Bulgaria to cities in the west such as Istanbul and Bursa. It would be impossible for these regions to obtain gas from other sources directly.
It is no coincidence however that Erdogan's threat about the nuclear plant was made in Japan which is interested in all the competitions for the construction of nuclear power plants in the country.
Moscow has won the competition and has undertaken to invest 20 billion dollars in the construction of the nuclear plant in Akkuyu which is expected to be ready in 2019. The discontinuation of the project and the takeover by another country would not cause any particular problem in Turkey as it has surplus electricity to 2020 or 2021. So until then some other company could manage to complete the construction, Turkish officials say.