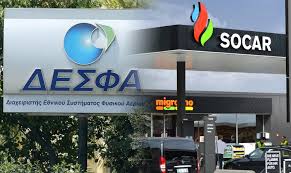 By Spiros Sideris – Thessaloniki
On the right track to be concluded within the year is the sale agreement of DESFA to Socar, which will bring about EUR 212 million to the HEP and EUR 188 million to the State.
A few days ago, in an amendment that was added to the bill of the Ministry of Health, an adjustment was made that enables the Regulatory Authority for Energy (RAE) to suspend the voting rights of the integrated enterprise shareholder, if it endangers the energy security of Greece or the EU (eg if it does not not finance infrastructure projects approved and necessary for the safe supply of the country). The same applies if the shareholder does not comply with EU law and control functions of the RAE, and if it is determined that he relates his decisions with the supply of natural gas from either Greece or the EU.
With this addition, the requirements of Brussels have been satisfied and the certification of the Independent Power Transmission Operator (IPTO) can be completed. In the coming weeks is expected the sending of the recertification by RAE in Brussels, which will have a two-months timeframe to respond. Their response is anticipated to be positive since the legislation was based on the observations of the European Commission on the first draft of RAE certification.
The final "green light" is expected to be given in November, and the DESFA file to go HRADF for the signing of the final contracts and the payment for the acquisition of 66% of the company on the part of SOCAR.