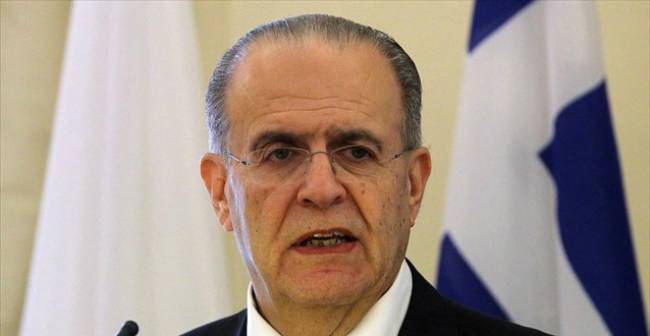 By Thanasis Gavos – London
Ioannis Kasoulides, the Cypriot Minister of Foreign Affairs, has been working overtime in recent days trying to allay concerns over the safety of Cyprus in the "remote" scenario of Syrian retaliation, should an American-led military operation against Damascus take place.
Over the last months Cyprus has set in motion a plan to attract investors and has also been struggling with reduced tourist arrivals, in the wake of the problems and the uncertainty caused by the Eurogroup decisions of last March. So the last thing the country needs is fears about becoming the target of a missile attack. Understandably, the Foreign Minister has tried to reply to questions asked by downgrading the risk.
The Cypriot involvement in all this saga of course is by means of potential use of the British military bases on the island in an attack against the Syrian regime. The House of Commons rejection of a UK participation in a military intervention has gone some way towards calming Cypriot concerns, although the intelligence gathered by the British forces in Cyprus could still feature in the supporting arsenal of any operation.
To a large degree the Cypriot government's reassurances target Britain itself; that is the potential investors and mainly the hundreds of thousands of tourists visiting the island every year. The risk of Syrian retaliation might seem a distant possibility, but the renewed travel advice of the Foreign Office did not sit well with Nicosia either.
"There may be an increased risk of demonstrations, linked to the possibility of military action in Syria. Keep up to date with developments, be vigilant and avoid any protests or demonstrations," the Whitehall department advises British citizens travelling to Cyprus.
Under these shades of worry, the Cyprus authorities can count themselves lucky that an influential actor in this equation, the British travel agents, is on their side.
"The problem at the moment is that Cyprus appears in the same newspaper articles as those about the Syria conflict. This is not the first time we have come across this – most notably during the first Gulf War, when the bases were also in use," says Alexis Josephides, Product Manager of Sunvil, the popular Cyprus travel specialists in London.
ABTA, the British Travel Association, vouched for the safety of travels to the island. "Business as usual" was its defying comment. The Association also stressed that there are no travel restrictions in place for Cyprus.
As far as Sunvil is concerned, they have had "no cancellations and only one enquiry about safety," as Mr Josephides said. "Generally our clients are well educated and thus understand all the above and don't panic unnecessarily," he added.