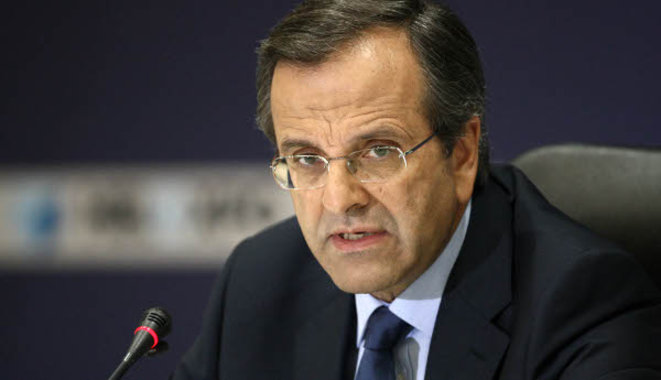 By Lefteris Yallouros – Athens
"We do not need another memorandum; we are not just exiting it but Greece will also be absolutely safe in the post-memorandum era" Prime Minister Antonis Samaras said Tuesday addressing the 13th Tourism & Development Conference of SETE, the Association of Greek Tourism Enterprises.
The PM went on to say that the government will not allow anyone to negate everything that has been achieved and block reforms while also stressing that nobody want political polarization.
Samaras highlighted the government's achievements over the last two years and said many more will come as long as we don't return to political uncertainty and stay firmly on the reform track which benefits the country and the people of Greece.
"Tourism can be the locomotive for us to exit the crisis and enter development, but it can also be the catalyst for the development of many other industries," the prime minister said while also revealing that Greek tourism will receive 500 million euros per year for investments in the form of European Union subsidies.
He added that Greece can develop and evolve into a unique island tourism destination by developing sub-sectors, such as medical and religious tourism. The Greek PM also said that efforts are being made to overcome an EU directive that is halting the subsidization of major hotel investments in the country.
"With a 20 percent contribution in GDP and breaking one record after another, Greek tourism has been upgraded in quality compared to the past in relation to the competition," Mr. Samaras said.
The PM also noted that political stability is a necessary condition for the tourism industry to perform well in 2015 while attacking those who have tried to stand in the way of the government's efforts to develop the sector.
"There are some who react and we found them across us when we abolished cabotage (liberalization of cruise tourism) and even heard them suggest to eliminate SETE as a social partner (to the government)," he said.
Earlier on Tuesday, Samaras met with the head of the TUI travel company.
TUI CEO Peter Long said the meeting with the Greek PM was exceptional and underlined that "what the government has achieved with political stability is very important since there is a very strong and positive fiscal growth, something which is beneficial to tourism". He also expressed optimism there will be more opportunities for further development building on this year which was very positive as the number of TUI customers who visited Greece rose by 10%.