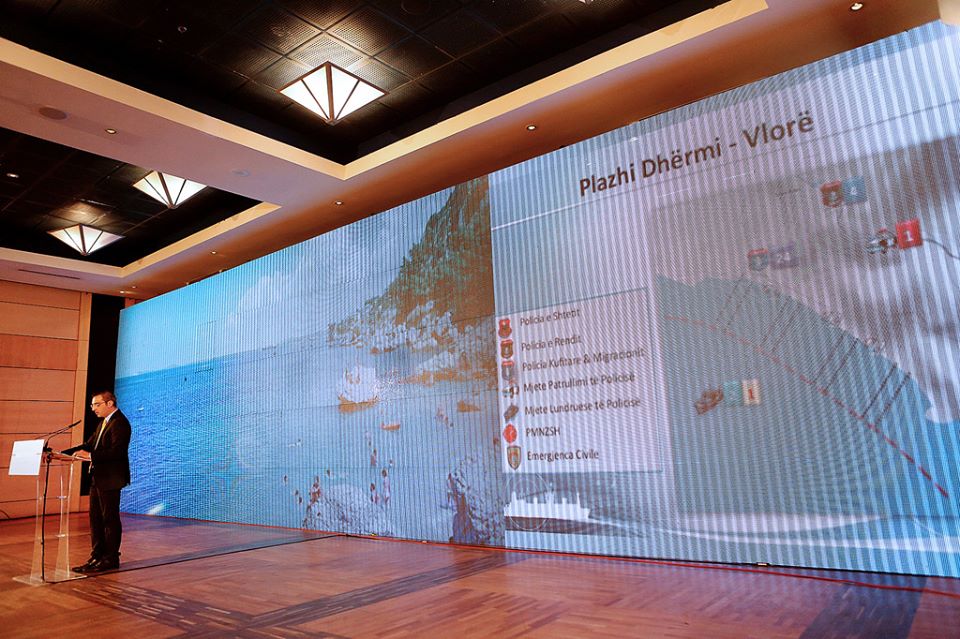 IBNA Special Report
Tirana, June 10, 2014/Independent Balkan News Agency
By Edison Kurani
The Albanian government has put in place a number of measures in order for the 2014 tourist season to go well. This plan was publicly announced by the governing cabinet. Ministers say that this is a plan of measures which has "transforming powers".
The measures relate to security, environment, quality public services and aim to guarantee the success of the tourist season. A special Task Force appointed by the prime minister and jointly coordinated with the ministry of Tourism, ministry of Interior, ministry of Transport and Infrastructure and ministry of Defense, worked in order to draft these plans.
Minister of Interior, Saimir Tahiri announced the plan of measures which relate to guaranteeing law and order and to prevent criminal activities in tourist areas.
He announced the reorganization of police services and check points. Tahiri said that he has ordered the mobilization of 2388 police officers, 201 transport vehicles, 17 vessels and 1 helicopter. "Not only to guarantee the safety of the citizens, but also to offer them all the resources of the Ministry of Interior", says Tahiri.
Minister of Tourism, Eglantina Gjermeny says that this year, holidaymakers will find cleaner beaches and better conditions. In fact, a cleaning operation has kicked off since the month of February. Gjermeni promises that this operation will continue during the entire season.
"We will be on field during the entire season in order to offer a cleaner environment and offer holidaymakers public services of a higher quality", says Gjermeni.
Minister of Transport and Infrastructure, Edmond Haxhinasto says that work is being done in order to improve road signs. He says that investments in road signs will be focused on the main road segments which serve to the tourist industry. He adds that investments are being carried out in the ports of Vlora, Shengjin, Durres.
Armed Forces too have been involved in the tourist plan of measures. Minister of Defense, Mimi Kodheli said that during this summer, Armed Forces will be deployed in 10 points in order to be present in the main beaches of the country. She made this pledge: "We will be present everywhere, with equipment, vehicles, logistic support in order to facilitate the stay of all of those who choose Albania's beaches. We will be where the majority of Albanians, here or across the border, will spend their holidays".
Problems which are often encountered
During the tourist season, the daily problems that tourists face mainly relate to infrastructure and culture of services.
Traffic in some weekdays is very congested, causing long delays to reach a particular destination.
Road signs are missing in a part of national roads and in the majority of secondary roads and rural areas. During the summer season, road signs in rural areas are more necessary in rural areas, because they are swarmed by tourists.
Citizens are not that optimistic
The way that the government representatives presented the plan of measures for tourism didn't convince some citizens that much. They believe that projections on giant screens are an image which is far from reality. Edvin is a 32 year old man who lives in Tirana and works for an NGO. He says that he travels outside Tirana during the weekend. He says that he faces numerous problems.
"In the majority part, there are no signs on the roads. Instead of spending money for video projections and giant screens, they [the ministers] must put road signs where they are missing, because their absence may become a source of accidents for tourists", notes Ervin.
Artan, 29 years of age from  Durres, has been living in Tirana for several years. He says that he often goes to the port of Durres to receive or take his relatives. "I'm surprised as to how this state can be so far from the image of normal tourism. You may visit ports and see the long queues and poor service. Get out of the port and observe. How can tourists be encouraged to come here when the first thing they see is an ugly parking space, a road that leads to traffic congestion and when one cannot even receive a leaflet that suggest places where one can stay". Artan says that he has visited several EU countries, but there, the situation is different. "When I get out of Greek or Italian ports or airports, I see many tourist adverts that encourage me to spend money in their tourist locations".
As far as cleanliness is concerned, nothing good can be said of it. It's enough to navigate on the internet to read articles and comments which make one realize that what remains is the presence of rubbish near tourist locations as a bad impression of a country which has been blessed by God with its beauties.
Efforts to change the situation
It's clear that the government is making efforts to improve tourism in the country.
Minister of Tourism, Eglantina Gjermeni says that this summer season will mark the start of the ferry line from Pogradec to Ohrid, which will enable free movement of tourists.
Watch towers have also been built and lifeguards have been trained in seven beaches of the country: Veliopja, Durres, Golem, Vlora, Orikum, Dhermi and Saranda.
In the next few days, the first tourist guides will be certified. A free telephone number (08003737) accessible from every landline or mobile phone, has been made available for Albanian and foreign tourists in order to convey their concerns about problems in the beaches.
A phenomenon which has been noticed in the recent years has been the invasion of beaches by private subjects. Very few areas are available for those who have no money to pay for their umbrellas.
Minister Gjermeni has a plan: "We have decided to alternate public and private beaches on the ratio 20% public and 80% private".
Meanwhile, the prime minister is resolved: "This story where an Albanian must pay in order to step on send and touch the sea, will end once and for all".
Aware of the situation, optimism about the future
Minister Gjermeni admits that the plan of measures cannot solve the problems of tourism which have been accumulated throughout the years. She says that these problems need time to be solved.
She's optimistic for the future: "The plan of measures that we're implementing gives way to the solution of the problems". As far as this season is concerned, she promises: "During the entire summer, we will be on the field, to collaborate with all central and local government institutions, to offer safety and cleaner beaches, by being closer to holidaymakers and by offering quality public services".
A large number of tourists is expected
Officials from the ministry of Interior told IBNA that they predict 3.5 million foreign tourists and Albanian citizens to visit tourist locations of the country from June to September. They say that this figure has been produced bearing in mind the data from the recent years concerning arrivals and departures of people in border crossing points. The highest number of tourists is from July 1 to August 15.
Prime minister Edi Rama says that the number of tourists is not a merit of the government. "No government until today has a merit about the fact that tourism in Albania, in spite of all the obstacles caused by the man, has continued thanks to the generosity of God in this blessed country which has everything needed to be a success story in the domain of tourism".
He says that "Albania doesn't risk of being swarmed by millions of tourists" and adds: "But, Albania certainly has the potential to receive millions of tourists and the realization of this potential requires several years. Nevertheless, this work must start today". /ibna/