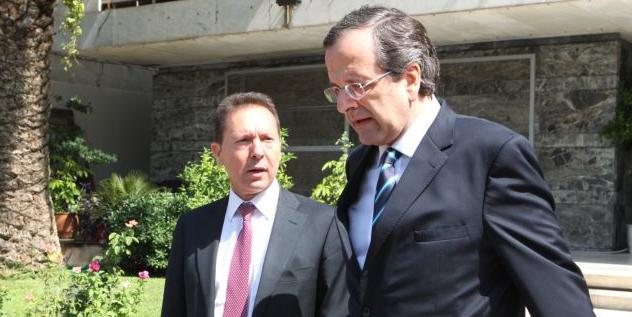 By Lefteris Yallouros – Athens
Greek Prime Minister Antonis Samaras is back in Athens Monday after a short summer holiday and has a difficult period ahead of him as troika inspectors are scheduled to visit the Greek capital in September.
His first meetings are expected to be with Finance Minister Yannis Stournaras, Administrative Reform Minister Kyriakos Mitsotakis and Foreign Minister Evangelos Venizelos.
Foreign Minister & Government Vice President Venizelos told newspaper "To Ethnos" on Sunday that the month of "September must signify the entry into the final straight for the country's certain exit from the crisis".
Venizelos also said the exit from the crisis is necessary and feasible and the first characteristic it should entail is the safeguarding of social cohesion and eliminating unfair measures that were necessary during the nation's fight for survival.
Greece will gradually but decisively exit the memorandum of understanding with the troika which reflects a constant, difficult and uneven negotiation with the country's international lenders, according to Mr. Venizelos.
Nevertheless, Greece must continue negotiations with the troika next month with a fresh set of harsh measures expected to be imposed. The government must finalize a list of 12,500 civil servants who will enter a labor reserve scheme, where they receive a reduced salary for eight months before being transferred to another position or laid off by the end of September.
Furthermore, another issue expected to feature high on the agenda of talks between Samaras and Venizelos is the government's plans to lift a moratorium on home repossessions. The two men must find a way to convince New Democracy & PASOK MP's who have already expressed opposition to the measure to vote in favor of it should the troika push for its implementation.
It is thought objections raised could be overcome by introducing exemptions for the unemployed and families with four children or more.
Meanwhile, German Chancellor Angela Merkel dismissed talk of a "haircut" on Greek debt. "I see no haircut for Greece," Merkel told German daily Frankfurter Allgemeine Zeitung. "I am amazed again and again by the carelessness with which this is being talked about," she said.