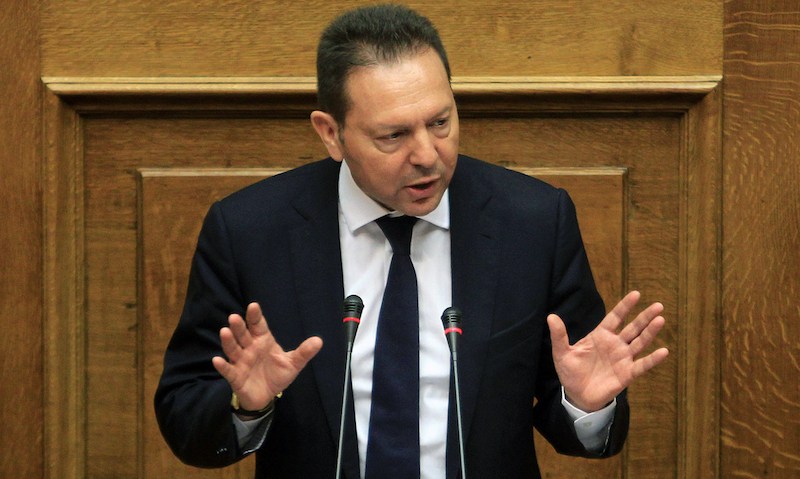 An intense argument between the government and the Governor of the Bank of Greece, Giannis Stournaras, broke out on the occasion of the publication of his interim report on the Greek economy. The governor is demanding that there be some type of credit line for our country after August 2018, just 24 hours after Venizelo's spoke in Parliament, with the government calling him "a failure", as Euclid Tsakalotos described the former President of PASOK. It is worth noting that top EU and IMF officials have set the goal of Greece's proper exit (from the rescue programmes), regardless of the scenarios they process.
Diplomatic fight with the President of the Parliement
It all began shortly before noon when Giannis Stournaras went to the Parliament to hand over to President Nikos Voutsis the Intermediate Report of the Governing Council, and a diplomatic skirmish took place between the two men. At that stage, the governor of the Bank of Greece stressed that "the big problem is that Greece is still six units below the investment grade and we have eight months to fix it." He stressed that "if it can not be corrected, we have to see what will happen after August 2018" and added that, "We have proposals that will, hopefully be read (and taken into account)".
The President of the Parliament raised the roof and answered in a diplomatic way that "it is important that no one denies, both in the political system, inside the country and internationally, that Greece is heading to the formal but, to a large extent, actual exit from the Surveillance Rules and the facts of the Loan Agreement."
Contrary to what Stournaras said, he raised the issue of the country's clear exit from the Memoranda, highlighting that, "we have all understood – and this is the subject of discussion – how this exit will be sustainable and absolute so that there is, from here on, an open road and a map that will help Greek society, not just to stay upright, but slowly to reconstitute the social fabric and to shape the conditions in the real economy and in the cations for a new development, a new production model and standard of the country and a new enhanced international position of Greece in the European Union."
Government: "The Finance Minister is a failure"
A moment later, and through the Interim Report, came the strong reaction of government circles to what the Governor of the Bank of Greece had said, that it is better for the country to opt for a precautionary credit line and not the "exit" from the programme.
Describing Mr. Stournaras as a "failed minister of Finance" the government argued that all lead to the result that the country can enter the markets with unilateral interest rates.
The fact that "a failed finance minister back then and a failed government had not set the exit to markets at favourable interest rates as the best option but had rather opted for a line of support, it does not mean that a successful government will not do much better. Already, this is what present evidence proves", they noted…/IBNA