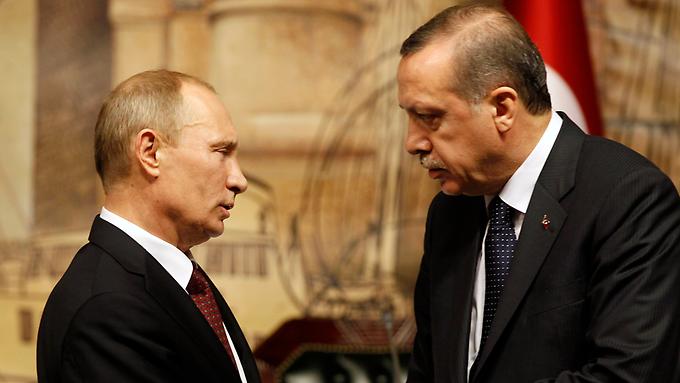 Erdogan: "I'll meet with Putin"
The Kremlin is not aware of any meeting!
Russian Foreign Minister "Truce would  encourage terrorists"
The battles in Idlib are building up, with Turkish forces drawing ever closer to Syrian army forces and Moscow toughening its stance by making it clear that any kind of truce would send out the wrong message to the "terrorists".
At this point, the clashes between the Syrian warriors backed by Erdogan with the Syrian army have moved outside the strategic town of Idlib, where Turkish jails are located.
Battles are now being fought to control the key highways of the M4, which connects Aleppo to Latakia, and the M5, which links the Syrian border on the Jordanian side with Damascus and Aleppo.
Turkey-backed warriors -Moscow and Assad refer to them as terrorists- took hold of the town of Al-Nayrab, considered the "gateway" to the occupation of the city of Saraqib, which holds an extremely pivotal strategic position and is located at the junction of two freeways.
"With the help of our Turkish friends we regained control of the strategic city of Al-Nayrab, the gate of Saraqib, after expelling the terrorist Russian militias", said Yusef Hamoud, a spokesman for the Turkish-backed National Army.
A Turkish security official said the Turkish army supported the guerrilla attack using artillery fire and bomb squads, with the rebels now clearing up the city.
Assad's forces, however, are moving simultaneously and westward into Aleppo with the help of Iranian militias. The goal seems to be twofold: to cut off Turkish forces in Idlib from their supply routes but also the Syrian city of Afrin from Idlib.
International media believes that there will be fierce fighting in the cities along the two major motorways in the coming period. Against this backdrop, the Turkish president accused Moscow of providing air support to the Syrian army.
'Moscow provides support to Assad via the air-force'
"Russia supports the regime's forces at the highest level. It also provides air support with aviation forces. We figured it out, we've got the data, even if they deny it.
We are not only obliged but also doomed to participate in this struggle. There is a burden at the borders, how are we going to explain all this? And once we have a million refugees and that number reaches two or three million, what will we do then? We will stand there with our hands tied", Recep Tayyip Erdogan said.
Bahceli: "We will not be sheep but gray wolves against the tyrants"
Erdogan's ruling partner, Nationalist Action Party leader Devlet Bahceli spoke in stronger terms, saying that Putin "hugs Mr. Erdogan in front of us but goes on to hug Assad behind our backs. Turkey and Russia are not allies; they are not strategic partners!
Russia and Assad have killed 369 civilians in Idlib. This is only from January. No mind can comprehend this.
It is inevitable that we will face any power or country that violates our rights. We do not bow down to become sheep. We become Gray Wolves and crash the tyrants!" Bahceli said.
Summit on Idlib is cancelled
However, even though Erdogan was talking about a quadripartite summit with France, Germany, Russia and Iran just 48 hours ago, minutes before his departure for Azerbaijan he said the March 5 meeting would not be taking place. "I will meet with Mr. Putin that day maybe in Istanbul, maybe in Ankara", the Turkish president said.
Kremlin spokesman Dmitri Peskov said Moscow had no preparations for a meeting.
Lavrov: "Truce would encourage terrorists"
Talks on a possible ceasefire agreement with the terrorists on Idlib means that we surrender to the terrorists and encourage their action, Russian Foreign Minister Sergey Lavrov said. In this way, Lavrov rules out the possibility of a truce on the terms set by Ankara and its allies in Syria.
Speaking at the 43rd session of the UN Security Council on Human Rights, the Russian Minister stressed that "it is difficult to interpret otherwise statements about a possible ceasefire agreement with gangsters, as is the case when discussing the situation in Idlib", Lavrov stated, adding that "this is not a human rights concern, but a surrender to terrorists and even encouragement of their action". /ibna