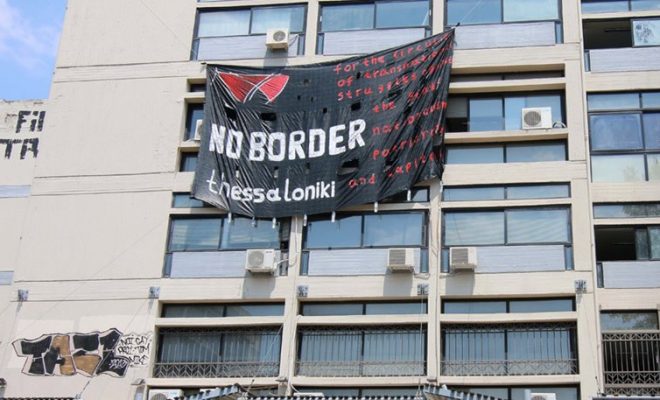 Athens, August 5, 2016/Independent Balkan News Agency
By Spiros Sideris
Deputy Minister of Citizen Protection Nikos Toskas stands in favour of the mild dealing with squatting if red lines are not crossed.
Speaking to SKAI television, he stressed that "I don't want to give the idea that I approve the squatting of public places". Giving the tone for the stance of the Police, he said that it moves "without tear gases and brutal repression that have not worked, but exacerbated situations".
For the squatting in Thessaloniki he claimed that any violent intervention of the police in the squatting would bring great impact on the city and perhaps in general. He added that "there was the best management of the matter in a wise and gentle way", noting that the damages were minor.
He accused the opposition of hypocrisy and that maximizes and inflate isolated incidents. He noted that the police hadn't intervened in Exarchia in the last 30 years, referring to the operation for the uprooting of the Albanian drug mafia. The situation in Exarhia "was being covered up systematically and scientifically" for years.
He said that a few days ago the police intervened and gave back three houses that were under squatting, to their owners in Exarchia, reiterating that police acts depending on the case and in moderation.
For the anarchists he said that "we tolerate the other opinion, provided they do not exceed the red lines, not have arbitrariness and excesses". He called on them indirectly not to engage in squatting. "What's needed is not to remain closed behind the walls of a house and express their concerns, but in an open mass movement", Toskas added.
Referring to the criticism of P. Polakis for the direct action of the police to the court order for the hospital, he said the police did not show eagerness and that its role is not to deliver justice, but carry out the instructions of Justice.
He added, however, that Polakis has zeal and political desire to reduce the cost of hospitals and to clear up a rotten situation in the hospitals.
The ND spokesman said it is clear that Mr Toskas subordinates to the most extreme positions of his party and that in its clash with SYRIZA, the government is losing badly and the party imposes its will.
"As such, after the party and ideological coverage of anti-authoritarians the government passes to the next stage. Consultation, co-decision and co-management of public order and security to those who deny and undermine it. The next stage is for the anarchists and squatter to give instructions to the Police", Koumoutsakos continued.
He added that the government and Mr Toskas should understand that their duty and mission is to care for and protect one 'collectivity', the Greek citizens, their families and their properties.
"The first priority for tomorrow's New Democracy government will be to restore the legitimacy and the consolidation of civil security", underlined the ND spokesman.