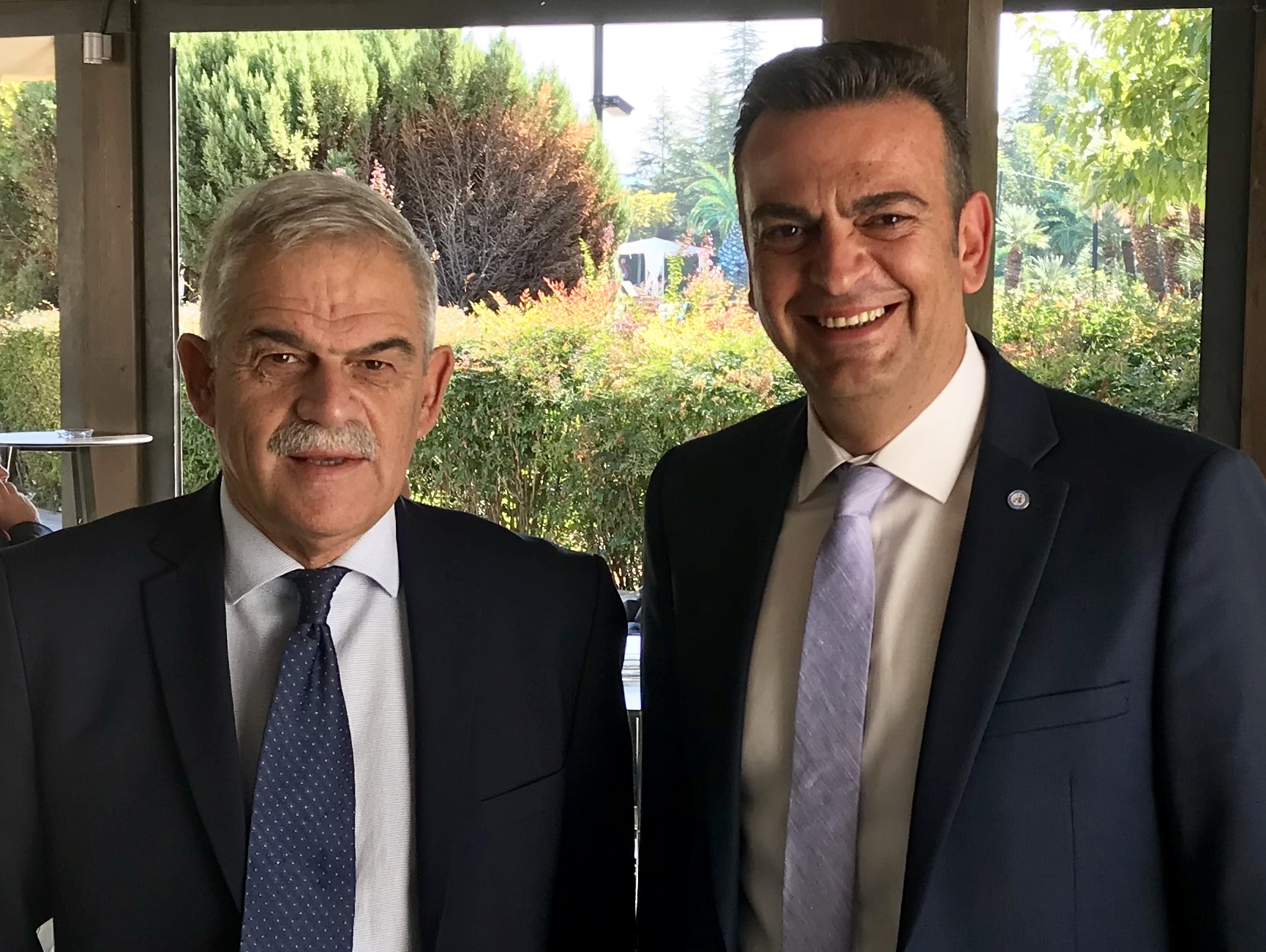 During the exclusive interview with IBNA and Spiros Sideris, Nikos Toskas, the Greek Alternate Minister of Public Order and Citizen Protection,spoke about the importance of ministerial meetings among counterparts, Balkan countries' cooperation and knowhow-expertise exchange on civil protection and the tackling of natural disasters, immigration issues and border protection and the reduction of crime in Greece thanks to Greek Police actions.
Minister, how important are these meetings and how much have they helped to overcome problems such as immigration, border security, terrorism and crime?
As you know, security issues, especially in our area, in a neighbourhood that lacks stability, are extremely important for the safety of the citizens of our countries; they have become a central issue. These meetings between Balkan countries, the quadripartite meeting in particular, gave us the opportunity to discuss with the Albanian deputy minister, the minister from fYRO Macedonia as well as the Bulgarian minister about issues related to these sensitive areas such as terrorism, preventing organised crime, cooperation between police forces, etc. But we also discussed cooperation on the issues of civil protection and dealing with natural disasters which are also central issues; as you know, climate change has created huge problems even to northern countries. Issues that were not really discussed a few years ago, now top the agenda. According to latest studies, by the year 2100, two out of three Europeans would be victims of natural disasters. Therefore, we must do something, at a European Union level but also at regional level, in the Balkans. The countries we are in talks with do not have large operational capabilities. We will try to cooperate, exchange views and support them with expertise, joint exercises and training. This will be good for the whole the region, because natural disasters are not restrained by borders, they expand beyond border lines, which is what happened with the blazes in the summer that impacted both on Greece and Albania.
Your Bulgarian counterpart explained to me that one of the subjects the Bulgarian presidency will put on the table is immigration. Recently, migration flows have increased a little from Turkey. However, we have not reached 2015 levels. What do you believe is happening? Have refugees in Turkey exceeded 4 million, which is naturally an issue for us?
The immigration flows have not stopped but they are currently nowhere near the size of 2015 and 2016. The states we held talks with today don't face any real problems from migration flows. They are also exposed to the problem, but these flows are not comparable to those of previous years. This is why we mostly focused on other issues, such as exchanging intelligence, cooperation between police forces and fire brigades, issues of security and protection of natural resources.
Does Greece's cooperation with Turkey in terms of protecting borders continue to be at a good level?
The agreement between the EU and Turkey is being observed. During the summer and to this day there has been an increased flow but it is not at a point that puts the agreement at risk. However, it is an issue that we constantly ask Turkey to deal with, and we do what we can in order to avoid the situation getting worse.
Something that is rarely mentioned is the success of Greek police in fighting organized crime. We've seen serious crime rings dismantled recently. I'd like to ask how this was managed.
I have specific figures to present on this matter. Figures on the last six months were released today. The reduction of crime has been significant in the first half of 2017. Crimes that directly impact on the level of safety citizens feel have been significantly reduced, as have murders, robberies and handbag robberies, brake-ins at stores and homes, etc. Notable results have been delivered in tackling crimes related to drugs; more than 10 tons of cannabis were seized, along with 171 kilos of heroin, 84 kilos of cocaine and 10,200 cannabis plants.
Is this success attributed to better organisation of operations? You've been accused of destroying various forces. Are these achievement an answer to your critics, showing that there is an alternative way for citizens to be safe?
Regardless if some don't want to realise it, we have shown that the police has other functions too, besides suppression, and priorities can lie elsewhere. This is what has truly happened in recent years. Some don't like it, the opposition doesn't like that the police has happily moved on from suppression tactics, which is the last means of dealing with problematic situations. Emphasis has been given on tackling common crime and this is why we have achieved the results you see. Most recently we dealt with an abduction case, scoring a quadruple victory, with no blood, no ransom being paid, with the perpetrators arrested and with a message being put out that deters others from carrying out abductions. We've also had great success in tackling crimes connected to narcotics. We've protected thousands of children from the scourge of drugs. Almost every month about two tons of cannabis that has come from neighbouring countries is seized. These are very big successes. Also, in western Attica where there were many problems, the situation has calmed down, as it has in other areas too. Now, police is on the same side as citizens, not on the opposite side, when it comes to dealing with issues of public order. The attitudes of bygone eras, when some held up the law and order flag and carried out mass operations in order to create favourable impressions for the cameras is nowhere near our frame of mind.
What is your comment on the actions of police in Catalonia? Should the police intervene in democratic processes?
This is exactly why I pointed out before that our police have moved away from these attitudes that promote suppression which can at times be needless. We have a balanced approach and we don't seek to suppress those complaining about their labor rights but tackle common crime instead…/IBNA