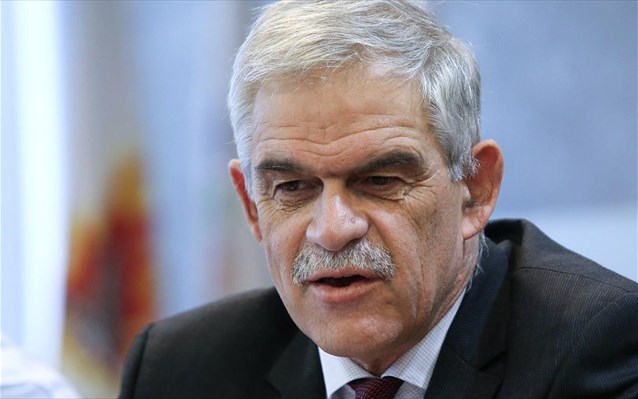 Athens, August 29, 2016/Independent Balkan News Agency
By Spiros Sideris
His convinction that the reorganization of the Greek Police services will lead to better policing, expressed the Deputy Citizen Protection Minister Nikos Toskas, in an interview with the Athens-Macedonian News Agency, and emphasized that there will be special attention to those areas where there is a high concentration of refugees. Meanwhile, Toskas noted that police officers used to guard officials will return to the road to serve the safety of ordinary citizens.
"The plan of the reorganization of the Greek Police is something that should have been done many years ago, because there are around 1,200 independent regional offices of the police, scattered throughout Greece, due to the needs, but also due to some decisions that serve other interests rather than policing. So there are too many police stations, too many services, which create problems because there is not adequate staff. For example, a police station wants more than 15-20 people, to enable it to perform its basic functions. Most police stations have less than 10 people and this creates a problem", Toskas says and highlights the need for merging police stations. We seek, therefore, to make the Greek Police effective throughout the Greek territory", he explains.
At the same time, he states that areas with high concentration of refugees are excluded from the planning.
"We exclude remote areas, islands, areas with a high concentration of refugees, mainly on the islands. And the whole process was done after consultation that lasted almost a year, in which the general secretary of the ministry, Mr Anagnostakis had the main role. He discussed with mayors, with MPs and proposals started from the bottom up rather than top down. They started from the police stations and inspections. These are rationalization steps, which lead to better policing, that is better serving of society. Steps absolutely necessary that should have been taken many years ago".
Regarding refugees, the deputy Protection Minister said the situation in the islands will decompress, with the transfer of refugees to other regions.
"In the coming days we will begin to decompress the situation by transferring some refugees to the mainland. We are pushing the European Union to accept more people and the day before, during the visit of the High Commissioner of the United Nations, we discussed these issues. The International Organization also pressures, along with others, to decompress the situation. We believe that the European Union – Turkey agreement will be maintained. Turkey will continue to respect the agreement. There are some increase in some cases. Generally we are happy with the implementation of the agreement", Toskas says.